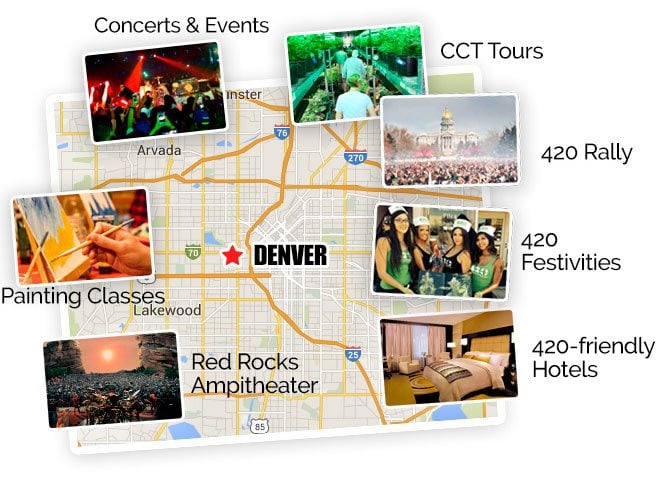 Cannabis Week Denver 4/20 Fest 2021
Get the best of all the 420 Colorado Cannabis Week Deals, Events, and Parties.
Coming to Denver this #ColoradoCannabisWeek and want to make sure you have the best experience possible? Well look no farther fam, you've just found the most experienced, highest rated Cannabis event and lodging company in the world!! We here at Cannabis Tours have partnered with the absolute best in the industry to make sure your 2021 420 Week is one you're sure to look back on with no regrets!
This 2021 4/20 Colorado Cannabis Week is a special one. At Cannabis Tours we are so happy to welcome back our guests for this year's Colorado Cannabis Week! With our usual 4/20 festivities being canceled last year due to the pandemic, we are so grateful to be able to offer a safe, socially-distanced celebration that keeps our guests healthy and safe, while still providing all of the cannabis-friendly activities you love! Rest assured we are taking all necessary precautions concerning COVID-19, for a full list of our practices and requirements please click here to read more. We are committed to providing you with the ultimate 420 experience, so you can safely Stay High in the Denver area and throughout Colorado. Book now, as activities fill up quickly and space is very limited!
Special discounts available to all guests booking any of our lodging options through our network of 420 friendly hotel partners!
Have fun and be safe! And please remember to #StayHighFam this #ColoradoCannabisWeek!
All activities are private and BYOC events. Must be at least 21 years of age with valid US issued ID or passport. Please consume responsibly.

We are your true Cannabis Concierge for all the 420 Cannabis Week Events, Parties, and Celebrations in and around Denver Colorado!
For questions, call 303-420-TOUR (8687)
Denver 420 Festival Events
Denver's 4/20 celebration is the date everyone has been waiting to experience this year.
On 4/20/2021, you can expect Denver to host a range of 420 concerts, music festivals and yes, a lot of cannabis smoking. But the fun starts April 16th 2021 through 4/20 (April 20th) until April 24th 2021! The Mile High Festival is hosting one of the world's largest cannabis events this year at Civic Center Park, near Colorado's State Capitol. It is anticipated that the event will bring in or 50,000 cannabis enthusiast.
The event is 100% free and include 420 concerts locals and a 420 music stage that will headline top acts and world renowned artists from across the country. Artists and musicians have yet to be named, but we will update when the schedule goes live! Bookmark this page, and be the first to know and get the best 420 deals!