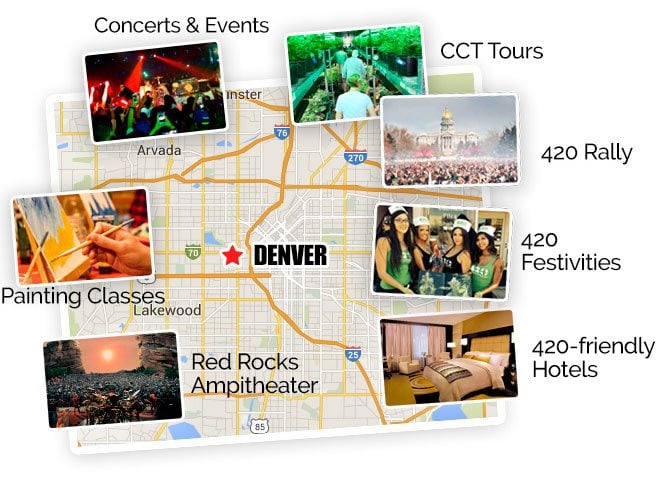 Cannabis Week Denver 4/20 Festival 2023

Get the best of all the 420 Colorado Cannabis Week Deals, Events, Festivals, and Parties.
* Just updated for 2023! ** Latest Update: 03/21/2023
Coming to Denver this #ColoradoCannabisWeek and want to make sure you have the best experience possible? Well look no farther fam, you've just found the most experienced, highest rated Cannabis themed event and lodging company in the world!! We here at Cannabis Tours have partnered with the absolute best in the industry to make sure your 2023 420 Week is extra lit!
This 2023 4/20 Colorado Cannabis Week is a special one. At Cannabis Tours we are happy to welcome back our guests for this year's Colorado Cannabis Week to enjoy all of the cannabis-friendly activities you love! Plus the mile high festival is back this year at the CO state capitol.
Have fun and be safe! And please remember to #StayHighFam this #ColoradoCannabisWeek!
Must be at least 21 years of age with valid US issued ID or passport.

We are your true Cannabis Concierge for all the 420 Cannabis Week Events, Parties, Festivals, and Celebrations in and around Denver Colorado!
For questions or to book, call 303-420-TOUR (8687)
420 Festival Things to Do in Denver and Events
Denver's 4/20 celebration is the date everyone has been waiting to experience this year!
4/20 is one of the most highly anticipated events of the year in Denver. This year 4/20/2023 falls on a Thursday. But the fun doesn't stop on April 20th. There will be non-stop events and activities from Friday, April 14 to Sunday, April 23, 2023!
Denver will host a range of exciting 420 concerts, music festivals, and yes, lots of cannabis smoking. 4/20 is always the ultimate celebration for cannabis enthusiasts and music lovers alike. The Mile High Festival is making an epic return to Civic Center Park, near Colorado's State Capitol. This is one of the world's largest cannabis events and this year, the event is expected to attract up to 50,000 cannabis enthusiasts! The event is 100% free and features a cannabis community experience, artists, food trucks, bars and local musicians. Take advantage of this incredible opportunity to celebrate 420 in Denver like never before.
We're constantly updating our page with more information and exciting announcements, so be sure to bookmark this page and be the first to know about the latest 420 deals and events!

420 on the Rocks and Mile High Festival are back! 2023 is goin to be lit!
We are thrilled to have a killer lineup this year with two massive stoner concerts featuring Wiz Khalifa, The Marley Brothers, Action Bronson, Joey BadA$$, Sean Paul, Steel Pulse, Berner, and more are coming to light up Denver!
Book now, as activities fill up quickly and space is very limited! Special discounts are available to all guests booking any of our lodging options through our network of 420 friendly hotel partners!
Welcome to Colorado Cannabis Week 2023!
Checkout some video scenes from past events!
Guide to 420 Week Denver: 420 Deals, Rally, Festival & Events
History of 4/20 Week Denver events
The University of Colorado in Boulder first started an annual 420 event in 2008, attracting more than 10,000 people. In 2012, the university shut down its campus, and ever since, Denver has become Colorado's go-to cannabis destination for April 20th, 420 events and cannabis celebrations. For years, people flocked from around the country and globe for the world-renowned 420 Denver Cannabis Cup, but in 2016, the High Times Cannabis Cup was rejected in Denver and ensnared in bureaucracy due to city permitting issues. In 2023, the main attractions during the April 20th Denver Colorado Cannabis Week are now the 420 concerts, the Denver 420 Rally held in Civic Center Park, and the Mile High 420 Festival.
Learn More:
Mile High 420 Festival & Colorado Cannabis Rally
As the first state to legalize cannabis, Colorado has a unique history with the marijuana and cannabis movement. As a result, The Mile High 420 Festival draws advocates and enthusiasts from around the world, with a goal to fight the stigma while celebrating the booming cannabis industry in the Mile High city of Denver. Part of the 420 fest is lots of cannabis friendly events and concerts.
The 420 Rally seeks to carry on the tradition set by Governor Pothead Ken Gorman, who began what is now the largest gathering and most prolific gathering of smokers in the world. The Denver 420 Rally has been leading the march for cannabis freedom for over 20 years, and every year tens of thousands of cannabis enthusiasts gather in Denver's Civic Center Park to celebrate cannabis culture and community. It is indeed a sight to behold.
The Mile High 420 Festival is an entirely free festival, which opens at 10am and continues until 6:00pm on April 20th, 2023. The entire downtown shuts down for the festival, and headline entertainment includes top acts and world-renowned artists from across the country, as well as a local music stage, presenting some of the best performers from around Colorado. While 2023's lineup has not yet been announced, last year's headliners included Lil Wayne, Lil Jon, The Original Wailers, Inner Circle, Taylor Alexander and bluegrass band WhiteWater Ramble.
Learn More:
Denver High Times Cannabis Cup
The first legal High Times Cannabis Cup held in the United States happened in Denver in April of 2013, and was a sold-out event of 10,000 people, with shoulder-to-shoulder crowds for the 420 celebrations, relentless displays of commerce, and overwhelming clouds of cannabis smoke. It was the largest ever attendance for any Cannabis Cup festival, which is organized by High Times magazine.
The Cannabis Cup in Denver continued to be the go-to destination worldwide for cannabis events during 4/20 week, until 2016, when the city denied the event permit. While this year's 420 Cannabis Cup will be held in Sacramento, California, the Mile High City will still be bustling with 50,000 visitors to attend Colorado Cannabis Week, The Mile High 420 Festival, the Denver 420 Rally at Civic Center Park, and special events like tours, classes, and parties all week.
Learn More:
Your Denver Cannabis
Tourism Center
ColoradoCannabisTours.com © 2023