7 Wonders of the Weed Mecca or How We Upped Our Denver 420 Game
Tuesday March 22, 2016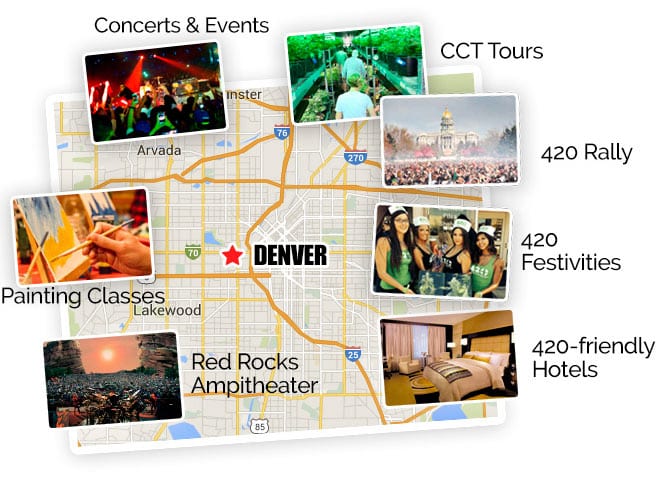 7 Wonders of the Weed Mecca or How We Upped Our Denver 420 Game
With this year's usual 4/20 Colorado Cannabis Cup being held in California instead (there will still be an awards presentation and a concert from High Times on 4/19), we at Colorado Cannabis Tours wanted to do everything we could to make sure the party continued as usual in our fair capital city of Denver. We already had plans to add several extra time slots for our famous cannabis tours and we added extra nights to our Puff Pass and Paint and cannabis cooking class offerings. But we wanted to do more. Because its the High Holidaze, right? 
We have 7 (SEVEN!) new and exciting activities for this years 4/20 celebration. Check out our latest 7 wonders below.
---
1. Puff, Pass and Pottery
Remember getting busted in art class constructing a ceramic bong? Maybe you called it a vase and didn't get detention… well worry no more friends! Join local expert ceramic artist Jessa Decker-Smith for a 2-hour 420 friendly Pottery session. Design ashtray, pipe or other creative piece of art with personalized instruction from the artist, then add your own twist with customized coloring and glaze. Kiln firing is included, pieces are available for pick-up/shipping no more than 10 days after the session. Extra fees do apply for shipping expenses.
2. Stoner Cinema

Ever watched a great movie? Ever watched a great movie ON WEED!?! Colorado Cannabis Tours announces their newest and likely most popular event to date, Cannabis Theatre! Each month, starting on 4/17, we'll select an epic piece of work from the vast libraries of Stoner Cinema to bring you a completely smoke friendly moving going experience. Concession items such as pizza, popcorn, soda and candies are available on site. Being our inauguralscreening, we've chosen the most popular Cannabis Classic of them all, The Big Lebowski. Feel free to abide just like The Dude himself, by going ahead and doing a J right in the middle of the movie theatre! New shit has truly come to light with this unique opportunity to consume legally and safely. This is a private screening with limited seating, so make sure you book your tickets in advance by calling us now! Doors open at 7:00, show begins at 8:00.
 3. 420 Munchie Crawl

What is a Munchie Crawl? Think Cheech and Chong's pub crawl, throw in a ton of great food offered by the best pub food joints (pun intended) in the world famous Broadsterdam district of Denver, great deals at the dispensaries along our "Green Mile", and a luxury party bus available for your smoking pleasure! Tour all the great food South Broadway has to offer with a group of 300-400 like minded companions. Meetup is in front of Denver Relief at 4:20pm on April 20. Following the meetup, we'll tour South Broadway sampling foods at the many participating restaurants in between stopping into the best dispensaries along the strip. Price includes food, smoke friendly party bus, awesome custom made swag bags full of "goodies" and entrance to our after party. Space is limited register now!
 4. Build a Bong Challenge
One of our most popular pregame activities to our world famous Puff Pass and Paint class. This is a one hour challenge to see who can make the most creative function-able bong out of a mix of hand picked supplies. Put your engineering hats on and join us directly before your puff pass and paint class. Winner receives a "special gift" supplied by one of our sponsors.
 5. Ganja and Galleries Walking Tour
Enjoy a leisurely 420 friendly guided tour of Denver's world famous Sante Fe Arts district on Saturday, April 16 from 1:00-4:00 pm. 420 friendly smoking environment on site, champagne and drinks provided after the event at the after party. Admission to after party included in the cost of the tour.
  

6. Evening of Infused Dining
Join expert chef Torrin Panico for a evening of culinary decadence. This is a private gathering of Cannabis enthusiasts in a 420 friendly and relaxing setting. Each meal is a full 3 course cannabis infused experience. Choose from a variety of dishes from chicken or steak to fish or vegetarian selections. Gluten free and other dietary restricted options are also available. Each meal will be lightly-heavily infused based on the customer's desire. Please note, this is a BYOC event, shatter can be picked up and brought to the event for infusing your meal with. Seating is limited to 25 people, so please book well in advance. Doors open at 7:30, first course begins at 8:00.
 7. The FULL Package

Experience the best of everything this 4/20 has to offer by combining High Times Cannabis Cup with Colorado Cannabis Tour's one of a kind 420 celebration. Our Full Package includes airport transportation from DIA, The Denver Marijuana Tour, Classes and events and Tickets to the High Times Cannabis Cup at the Cypress Hill concert and 5 nights hotel stay. On 4/15, after being picked up from DIA, you'll be transported to your 420 friendly hotel. You'll then enjoy 2 days of Denver activities, including our world famous Colorado Cannabis Tour, Puff Pass and Paint, Cannabis Cooking Class, Infused Dinner or Cannabis Theatre. On 4/19, you'll have your tickets in hand to the High Times Cannabis Cup and Cypress Hill, Parliament and the Funkadelic and Action Bronson Concert at the First Bank Center in Broomfield, show starts at 7:00 doors open at 6:00 (transportation provided by using your free Uber discounts). Check out is on the morning of the April 21st at 10:00am, when you'll be picked up by your private 420 friendly driver to take you back to DIA. Vaporizers and E-Nails provided at each hotel so you can consume safely without fear of penalty. A deal like this is sure to go fast, call us now at 303- 420-TOUR to book!
Long live 420 Denver 2016!

Latest posts by Brittany Driver
(see all)