Maui Cannabis Conference takes place on January 5 & 6, 2019 at Royal Lahaina Resort. This two day event will host the cannabis industry's top professionals in a fun & beautiful ocean front setting. Escape the cold weather and join us in paradise!
Day one of the event features a Cannabis Business Summit with talks covering National & Hawaii Cannabis Law, Marketing & Branding, Cannabis Tourism, Industrial hemp, Investment & Cryptocurrency.  Day two features a Community Education Day with lectures about the health benefits of cannabis and the positive economical impacts of hemp and medical marijuana in Hawaii.
Don't miss the Elevated After Party which will feature a fashion show with Maui's top bikini designers, fire dance performances, DJ's and other live entertainment.
Maui Yoga Festival will also be taking place on the same weekend at the same resort! There will be 5 yoga class zones: 3 Indoor Ballrooms and 2 Ocean Front Yoga Lawns! There will be over 60 classes offered with yoga and other modalities for all skill levels.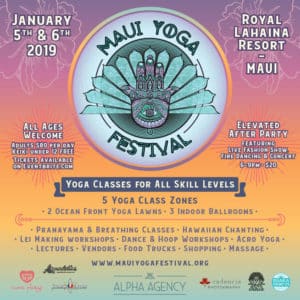 Join us on Maui this January 5 & 6 at Royal Lahaina Resort for a weekend you will never forget!
Discounted Hotel Rooms are available while supplies last. Reserve your event tickets and hotel rooms today to ensure your space.
Visit our website for more details and to reserve your tickets and hotel room:
On the Web:
Facebook:
Maui Cannabis Conference
Maui Yoga Festival