4 Presents to Please Your Weed Lovin' Man
Monday April 25, 2016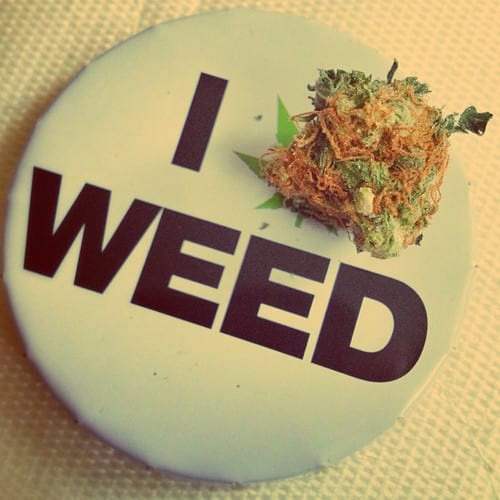 4 Presents to Please Your Weed Lovin' Man

1. Weed Apparel
Button up shirts are boring gifts. They just are. Instead, pick from the seemingly unlimited choices when shopping for cannabis-inspired clothing. You name it and someone, somewhere, had made it with a pot leaf or two on it. Undies? Check. Adult footie pajamas? Check! This T-shirt from 6DollarShirts.com presents a valid point, and for the canna-enthusiast who is also a cat lover this shirt by Rip N Dip covers both bases adorably.
 2. A key ring … on weed?
I don't know about you, but my main man has what might be a hundred keys. He has house keys and car keys and work keys, oh my. Helping him dress up his key ring, a staple of his every day, can be a cute reminder of how much he is loved. Enter the Sweet Leaf Key by Good Worth & Co, which is a small but flashy choice for a house key. Another option could be this handmade key chain with cut-out coin by Bongo Beads. You could even choose to leave the weed leaf out of it and express your thoughts with words using this offering from Rasta Empire that simply reads: Legalize It.
3. Add to his (4:20) toolkit.
Maybe your guy is new to cannabis or maybe he is an old hand in the game. Whatever the case — starting a collection or adding to an existing one — a new pipe or vaporizer will be a sight for sore eyes. One kit I found on EverydaySmoker.com includes a grinder, a lighter and (one of my personal favorite styles of pipe) a steamroller. This would dazzle even the seasoned smoker. I mean, how many steamrollers have you smoked out of? Alternatively, if you have a little more cash and would prefer to vaporize, I've heard good things about the Pax 2 for its sleek style and the Herbalizer, which is designed by former NASA engineers. Both are high quality and discreet. Though I've yet to try either, I know my guy would be psyched if I surprised him with one of these.
4. Help him build his library, one cannabis publication at a time.
When my husband was growing up he got a monthly subscription to skateboard magazines. The anticipation is half the fun — checking the mailbox each day for the next issue. Nowadays, we tend to dread the mailbox filled with junk flyers and bills. But we wouldn't if we had a monthly HT subscription. With grow tips, photo spreads and interviews, a monthly 'scrip for this classic mag won't disappoint.
Republished with permission from the author.

Latest posts by Brittany Driver
(see all)