Where does your state stand? Colorado Cannabis Laws
Wednesday November 04, 2015
Recreational cannabis laws in Colorado can be tricky to understand so we broke it down into this awesomely simple infographic!
First some background. Colorado and Washington were the front runners of the recreation legalization movement in the United States. In 2102 with the passing of Amenment 64, adults over the age of 21 in the great state of Colorado can legally possess up to one ounce of marijuana.
The wording of the laws can be confusing, so we have visually broken down the key laws for cannabis users in each state in our "Where Does Your State Stand?" series (download full size)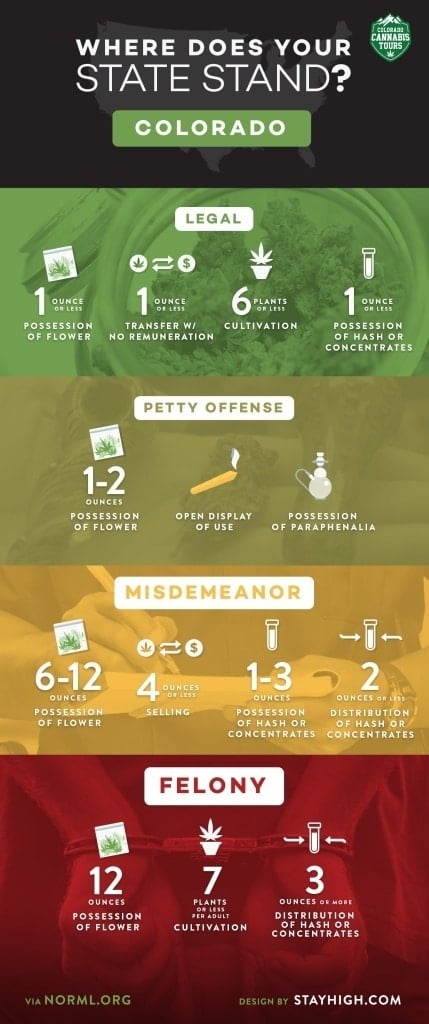 So rule number one in Colorado is that you must be 21 years of age or older or you can not legally toke up. You must possess a government-issued identification to prove you are 21 years or older in the form of a passport or drivers license.
Next we breakdown your marijuana possession, cultivation, transfer, and use:
Legal
1 oz or less of possession of flowers
the transfer of 1 oz or less with no remuneration
cultivation of 6 plants or fewer
possession of 1 oz or less of hash or concentrates
Petty Offense
more than 1-2 oz of flowers
open display of use
possession of paraphernalia
Misdemeanor
more than 2-6 oz of flower
more than 6-12 oz of flower
the sale of 4 oz or less of flower
possession of 1-3 oz of concentrates or hash
distributing 2 oz or less of concentrates or hash
Felony
possession of over 12 oz of flower
cultivation of 7 or more plants
distributing 3 oz or more of concentrates or hash
There you have it. Simple graphic you can review before your next trip to Colorado.  Remember while your in Denver to book "the original Colorado Cannabis Tour" and as well as your 420 friendly hotels, and activities. Next we will be featuring Oregon and Washington as well as the Colorado laws and rules for cannabis consumption in hotels, cars, and public.
For more information on Colorado Cannabis Laws visit our friends at Norml

Latest posts by Colorado Cannabis Tours
(see all)