Marijuana Edibles: Dosage, Effects, Candy & Everything You Need to Know
Thursday April 25, 2019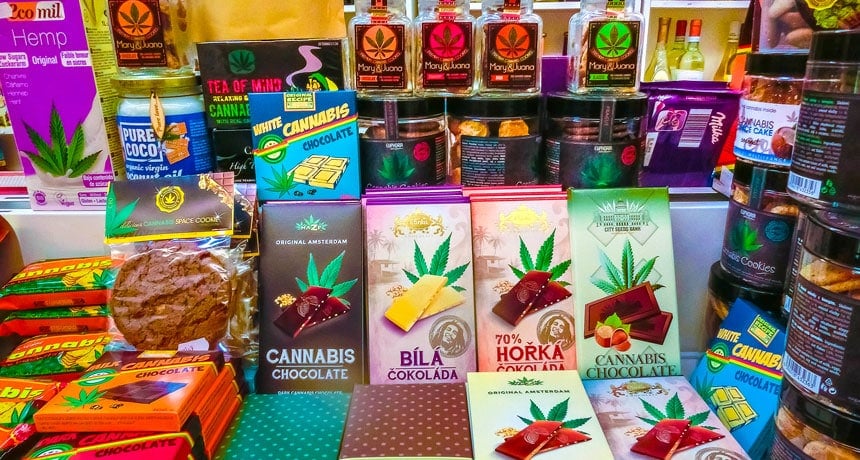 Your Guide to Marijuana Edibles
Food and marijuana go together like peanut butter and jelly. Edibles are a natural extension of marijuana's long standing relationship with hunger and cravings.
If you want to get high while eating a tasty treat (and obviously, you do,) what comes next is pretty straightforward. Simply sit back, relax, and enjoy this in-depth guide to the world of cannabis edibles, candies and more.
What are edibles?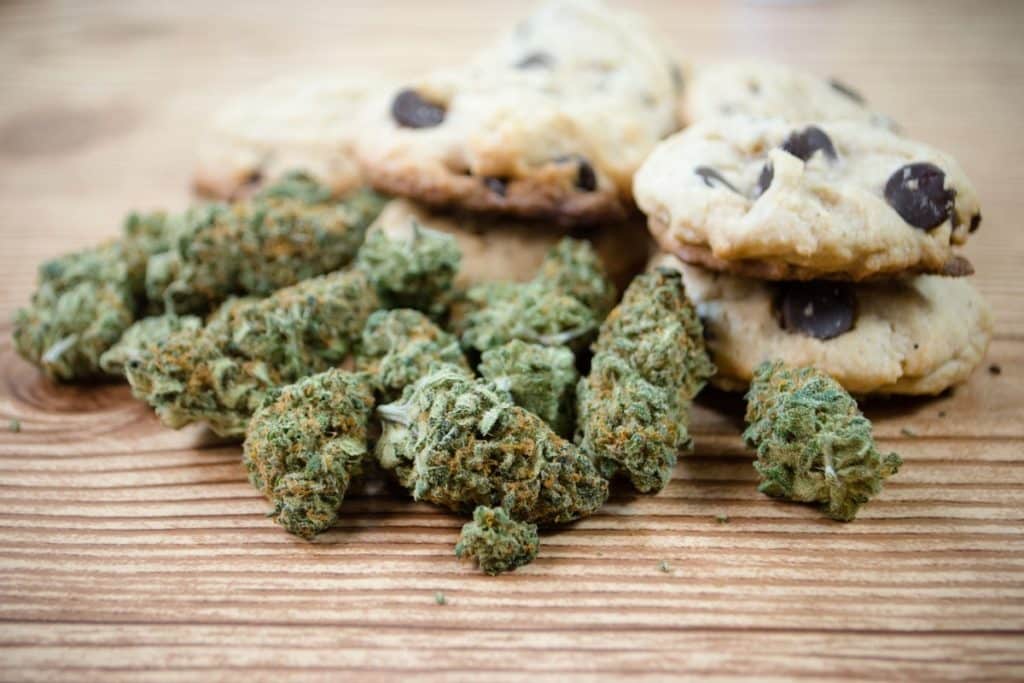 Let first start off with the basics. Edibles are any food item that has been infused with cannabis, THC, CBD or another cannabidiol.
The potency, taste and marijuana infusion process will vary from edible to edible, so always read the labeling or ask the budtender for advice. Edible companies have their own process and unique recipes but the end result is always the same: a tasty treat and a delectable buzz.
Where can you buy edibles?
If you live in a place where cannabis is legal, you shouldn't have any problems finding cannabis infused foods at your local dispensary.
If you looking for edibles near by in the Denver area, check out these local dispensaries:
1 – Medicine Man – 4 Denver Locations

4750 Nome St, Denver, CO 80239
1901 S Havana St Aurora, CO 80014
130 W 84th Ave Denver, CO 80260
500 E Rogers Rad Longmont, CO 80501

2 – Seed and Smith Cannabis

5070 Oakland St, Denver, CO 80239
3 – RiverRock Cannabis – 2 Locations

4935 York St, Denver, CO 80216
990 6th Ave, Denver, CO 80204
4 – Terrapin Care Station – 6 Colorado Locations
1795 Folsom St., Boulder, CO 80302
5370 Manhattan Cir. #104, Boulder, CO 80303
1 Broadway #A150, Denver, CO 80203
1900 E. 33rd Ave, Aurora, CO 80010
11091 E. Mississippi Ave., Aurora, CO 80012
650 20th Avenue, Longmont, CO 80501

3054 Larimer St, Denver, CO 80205
If you're not quite so lucky as to live in a place where cannabis is recreationally legal, you have two options.
One, go make your own pot brownies or two, now that the 2018 Farm Bill has passed, most local head shops and smoke store supply CBD-infused edibles and tinctures. Though CBD won't get you high, you'll still be able to enjoy the powerful medical benefits of CBD.
Types of Edibles Products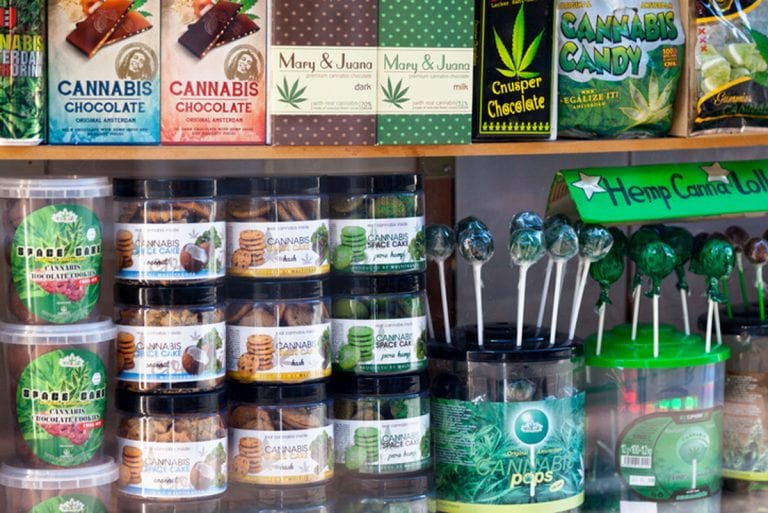 The recipes and type of ingredient food products used will really determine type of edible is being created. With the continuous passing of cannabis legalization across America, the range of edible options are steadily growing. You can even get marijuana gourmet cuisine made by professional chefs in certain corners of the country.
But for most of us, that not an option. We're just looking for dank treat to help us relax from a long day, destress and enjoy a fun-filled evening.
Here are just a few of the many different types of edibles available at dispensaries.
Brownies
Cookies
Chocolate
All Gummies
Cannabutter
Marshmallows
Beef Jerky
Candy, Suckers
Truffles
Beverages and so many more.
Now let's take a deeper look at some of the most popular edible types for your consideration.
Brownies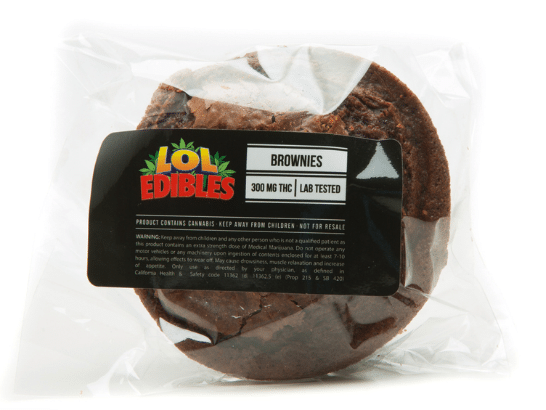 Edible brownies might easily be one of the most popular ways of getting THC into your system and satisfying the munchies at the same time.
Brownies are made by almost all marijuana edible companies and here are some popular names you might recognize; Space Brownies, 24 Karat, Kush Cakes, Goodship Fudge Brownie Bites and 4:20 Bar by Venice Cookie Co.
If you're up to it, get a dab brownie, they are made with concentrate and are extremely potent.
Gummies
Edible gummies are also a tasty way to open your mind while satisfying your sweet tooth. The nice thing about marijuana gummies is that you can imbibe with them just about anyway that you want to.
They are available in gummy worm edibles, bears, sours, strips, fruit snack and more. Basically, pretty much any gummy shape you can think of can has been infused with weed.
Edible gummy bears are a particularly popular, low key way to enjoy a high without being noticable.
There are a few different types of infused medical gummy candies would should identify.
THC Gummies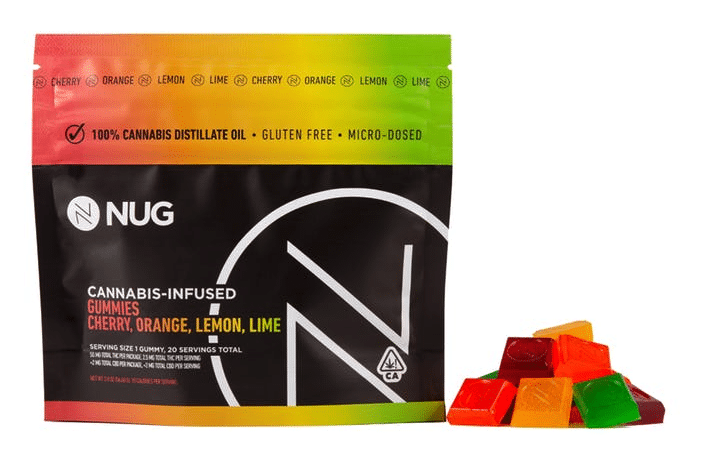 These candies are the ones you get a the dispensary because they are infused with THC. These are medical grade and will get you feeling euphoric, relaxed and out of this world.
CBD Gummies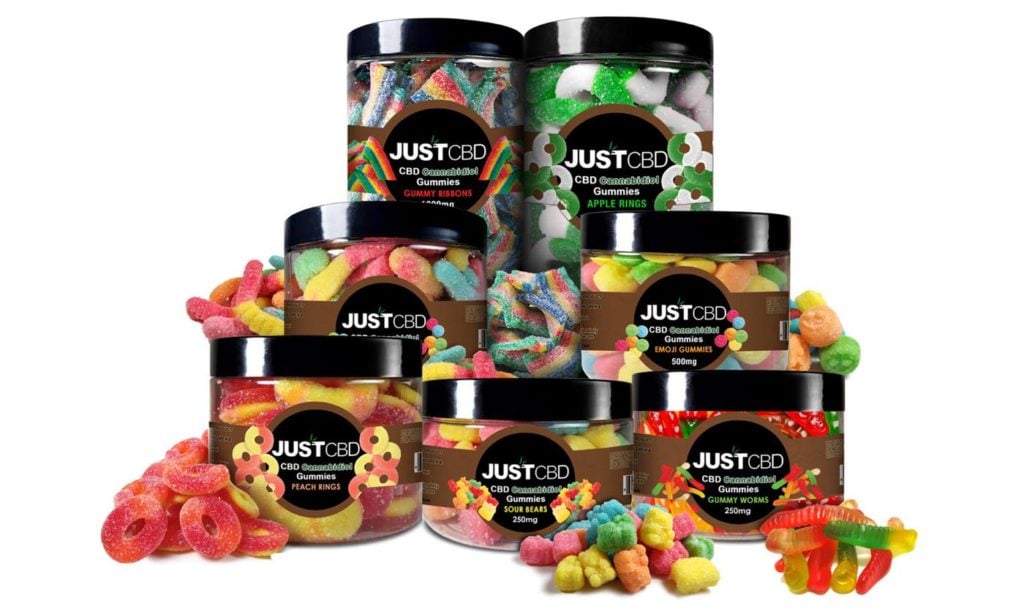 Gummies infused with CBD serve many medicinal purposes as well, but with CBD being legal you can now go pick them up in a local store near you. These gummies cannot contain any trace of THC to be sold in storefront to the public.
Hemp Gummies
These gummies are very similar to CBD gummies. They have practically no trace of THC in their products and tend to be low in CBD quantity as well. This is for beginners or people who want to enjoy the medical properties of marijuana but not feel the effects.
There are a variety of gummies brands some popular ones include; Kushy Punch, Baked Bros, Flav, Chronic Boom and Paradise Edibles.
How much are gummy edibles?
It will depend on the dosage, mg quantity, type of gummy and brand. Always ask your local budtender or store representative for their recommendation. They tend to know which products sell the best and hear customer testimonies first hand.
Here's a snapshot of a range of products, with a range of price so you can get an idea yourself.
Candy
If you thought that gummy bear edibles were awesome, you are going to love all the different types of edible candies that are now available to cannabis enthusiast.
Let take a look at some of the marijuana infused candies you can enjoy:
Hard candy: Mints, Tarts, Suckers, Lemon drops, Red hots, Butterscotch
Soft candy: Tafty chews, Caramel, Fruit chews, Sensi Chews, Cheeba Chews
Cannabutter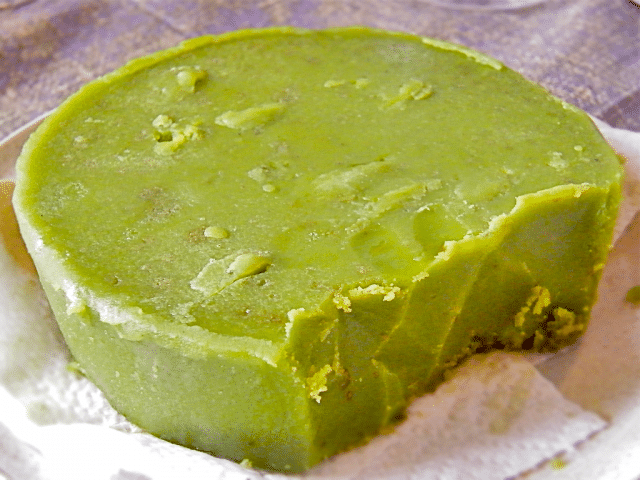 Cannabutter is the exact same thing as regular butter, with one key distinction: it has cannabis oil and marijuana infused in it. You aren't going to eat a spoonful of cannabutter to get stoned (though if you're feeling it, you're feeling it). It's really used for cooking other cannabis infused foods or to spice up a nightly meal.

Cannabutter can be bought at a few local dispensaries for time to time. Availability always varies and it tends to be hard to come by, so if you see it on the shelf, pick it up and give it a try.
If you don't have the chance to buy it, there are a number of recipes online that show you how to make this happy butter at home.
Beverages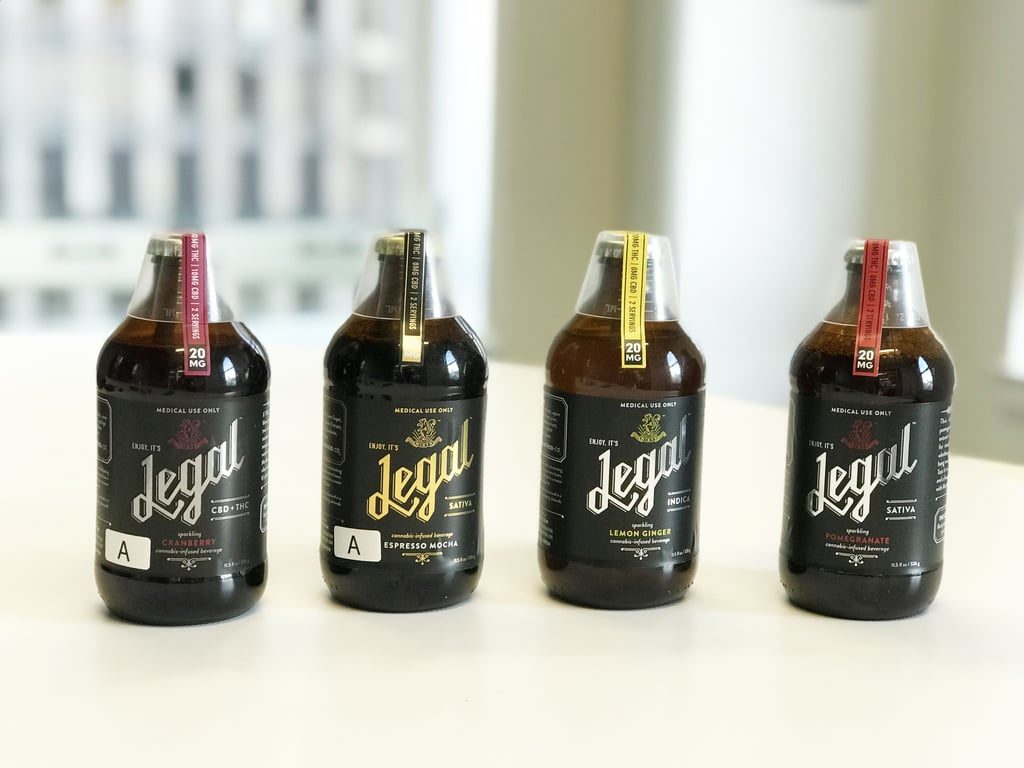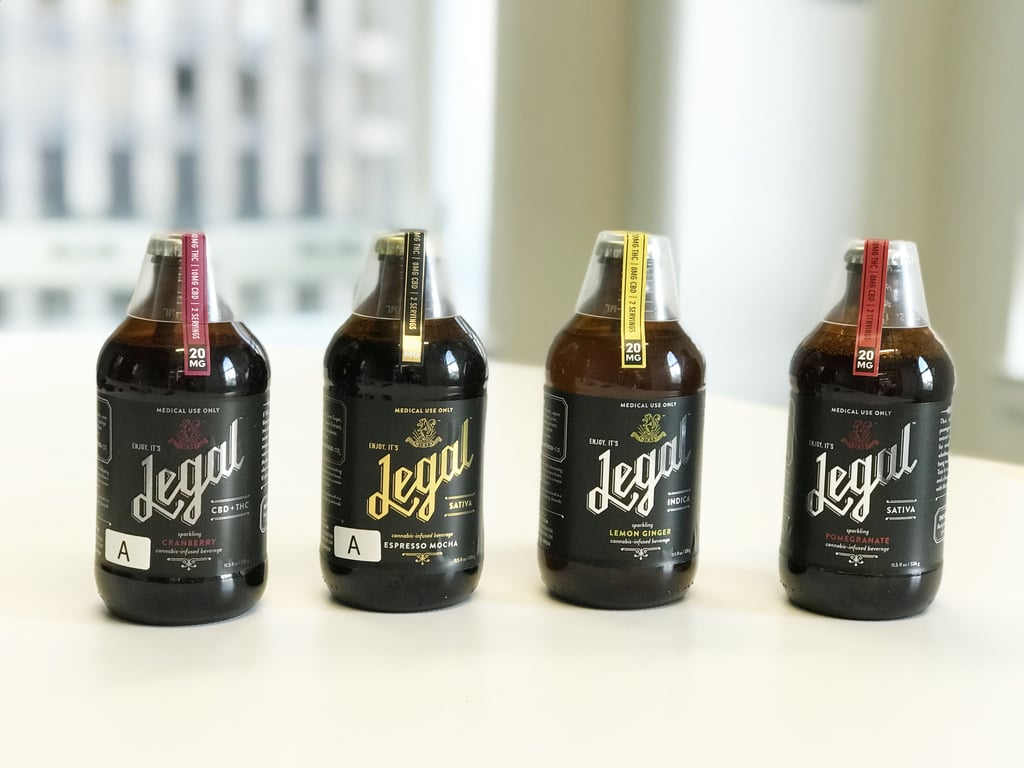 You can also drink cannabis-infused beverages (and no, we aren't talking about bongwater).
There are a number of coffees, tea, sodas and terpene infused wines for you to choose from. Once again, the sky is pretty much the limit. If there is a drink you like, chances are someone has figured out a way to make it with cannabis. To learn more, we covered everything there is to know about marijuana drinks and beverages here.
Tinctures
A marijuana tincture is concentrated oil that has gone through a process of soaking hemp, buds and cannabis with other plant parts in alcohol for weeks to extract the active constituents. This makes it's extremely potent
Typically tinctures are supplied in small 1 ounce dropper bottles. To get the benefits, dispense a few drops under your tongue and hold it for about 60 seconds. The tincture will dissolve straight into your bloodstream giving the powerful benefits almost immediately.
Pills and Capsules
Cannabis pills and capsules are not exactly the same thing as an edible, but you do ingest them.
Edibles pills and capsules are like vitamins but better because besides making you live longer it just makes you nice and high.
They are a popular edible product and you'll find a range of THC and CBD pills at your local dispensary. It makes for a great to enjoy marijuana discreetly.

Edible Dosage
Getting the dosage right is important if you are going to enjoy your time with edibles. That in mind, let's take a look at some important information on how to consume edibles.
Edible Dosage Chart & Potency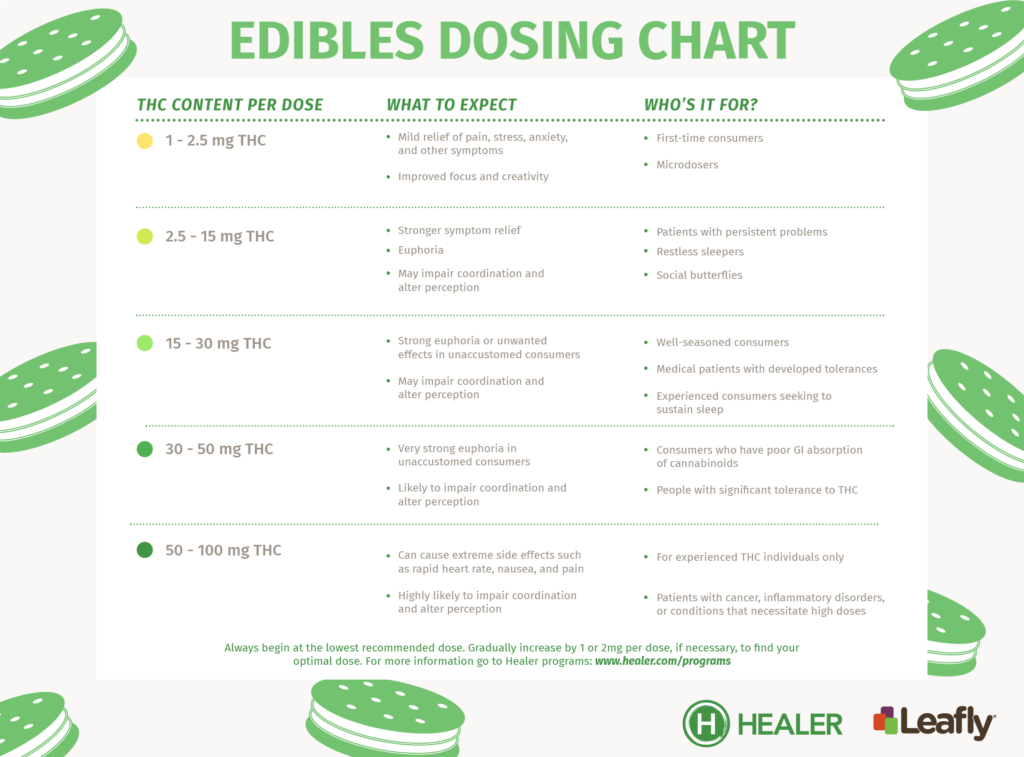 The right edible dosage will vary from person to person depending on if you're a daily smoker, have a high tolerance or just a beginner.
However, there are some general rules of thumb that will help you to nail the art of edibles dosage.
Here are a few generalities you can expect to encounter when it comes to the general edible dosage calculator that will help you out if you're wondering how many mg of edibles I should eat.
2.5 MG of THC
With 2.5 milligrams of THC you won't be out of your mind stoned. You may experience an increase in calm, or relief from symptoms if you are using the pot medicinally.
3-15 MG of THC
Once you get to the 15 MG range, your drifting into recreational territory. With this dosage you will be able to enjoy an altered perception of reality (nerd talk for, you'll get pretty stoned). You can use this dosage medically for relief from intense symptoms but it will be intoxicating enough to distract from every day life.
16-30 MG
At 30 MG you're in veteran smoker territory. With this amount of THC, we're talking about a pretty dank brownie, though it will make an acceptable edible dosage for daily smokers.
31-50 MG
Even everyday smokers are going to get knocked down on their rear with a 50MG edible. Not recommended for beginners, or anyone that needs to be a respectable member of society shortly after consumption.
100 MG
If it's a real 100 MG edible, be prepared because consuming this all at one time could send you to martian land. This will usually only be used medicinally by people suffering extreme conditions (like cancer). The most potent edible will probably be better for medical use than recreational use.
How many mg of edibles should I eat?
If you're wondering how many mg of edibles should I eat, the answer will ultimately depend on your experience level. The edible dosage for a daily smoker with high tolerance will be a lot different than the edible dosage for a beginner.
It's important to note that body weight and genes are factor in how your body processes the edible and its THC contents. There isn't enough science behind edibles, body size and weight right now to give you an accurate description on how it factors in.

But in the meantime, the edibles dosage chart above should help you to decide on the right option for your situation. In general though, if you are a first time user you might be best served by the 2.5-15MG range.
If you are a regular smoker, you will probably look for something around 1-50 MG.
How to dose edibles is a fine art that you will want to be mindful of. When they get too potent, it ceases to be an enjoyable experience, and becomes physically uncomfortable.
When should I eat edibles?
First things first, you are going to want to make sure that you don't have anything important to do for a while. Edibles take a little while to kick in but once they do, they last for a good length of time.
Many people will try to eat edibles on an empty stomach so that the effects will be felt faster and more significantly. While this effect may indeed be realized, in general, edibles on an empty stomach are not always a good idea.
Why? Because with no other food, the experience maybe intense. Best case scenario, you'll be uncomfortably stoned. Worst case scenario, you've lost half of your day sleeping it off.
You don't want that. Choose the right edibles mg, and that won't be an issue.

Edibles High & Side Effects
Let's close things out by taking everything you need to know about the edibles high. Read on for some edible effects, and everything else you could ever need to know about this awesome way to get high.
How long do edibles take to kick in?
The first thing most people want to know is how long do edibles take to kick in? The edible high does take a little bit longer than your typical bong hit. The range will depend on a number of things, including the potency, the food item, your weight, how much you've eaten that day, etc.
However, in general, edibles typically take thirty minutes to kick in at the fastest and within two hours you should definitely be feeling the effects. Because of how long do edibles take to hit you it is prudent to make sure you remain in a controlled environment after taking an edible.
With that said, here is another warning. Don't eat more if you're not feeling the effect within an hour. It can take longer and the last thing you want to do is consume too much and go overboard.
If you're wondering how to make edibles kick in faster, there are a couple of options. However, most of them aren't advisable. Many enthusiast swear by orange or mango juice, because of how the fruit molecules combine with cannabis molecules for intensified longer lasting effect.
Or you could just go with a higher dose, don't want to mess around with that.
What do edibles feel like?
Many people also wonder what do edibles feel like? This is a good question, but also not one with an easy answer. Different people will experience different results. If you are eating edibles for the first time you'll probably find them to be incredibly potent. They are known for producing a "couch potato effect," even on experienced users.
If you're looking for one of the stereotypical cinematic stoner experiences where you sit on your couch with slanty eyes and laugh at nothing in particular, edibles might be the way to go.
Watch this video of an older couple consuming an edible with 110 mg of THC. They seem to be having a good ole time. 🙂
For many people though, the experience of intoxication happens very gradually. In some cases, it can even be difficult to figure out how to know if your high off edibles.
Look for gradual changes in perception. If you find yourself staring out into space for extended periods of time, that's a common sign that the pot is starting to kick in. Of course, before too long it will become pretty clear that the pot is working its magic.
Edibles high & effects
The effects you can expect to encounter with your edibles will depend on your tolerance, your body weight, the dose size, etc. However, you can expect to enjoy your buzz for some time. How long do edibles and pot weed brownies last?
For most people it will be somewhere between 5-10 hours, which is significantly longer than pot ingested through smoke.
It sounds awesome, but be mindful of the fact that there are side effects. It is much easier to "go overboard" with edibles than it is smoked marijuana.
Granted, you can't overdose on marijuana, as you know, no one has ever died from marijuana before. But if you do over consume, don't say we didn't warning you, because you will feel like you're dying because it can be very intense.
Check out this video by the That High Couple where they compare the feelings of 100 mg vs 1000 mg edibles.
However, that doesn't mean you want to be carefree with your edible consumption. If you take too much it can result in extreme disorientation, nausea, vomiting, dizziness, an upset stomach, or extreme anxiety. Naturally, you don't want that.
The solution is to be smart with your dosing, and give edibles the respect they demand.

Austa is a writer and editor based in the Denver and Southern California areas who specializes in the emerging Cannabis space. Austa specializes in hemp, cannabis, psychedelics, marijuana tourism and their impact on global marketplaces and culture.
Latest posts by Austa Anderson (see all)