2022 Weed Festivals & Cannabis Events Guide
Friday February 04, 2022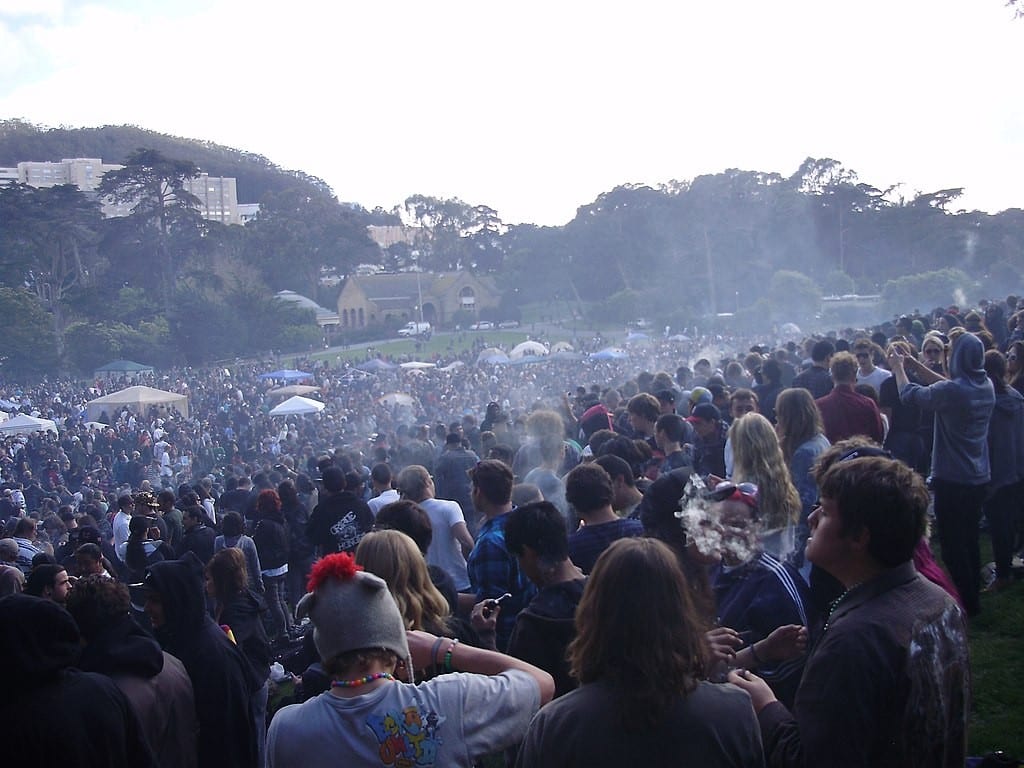 COVID-19 did a lot to slow cannabis festivals all around the world, where marijuana lovers congregate to celebrate their favorite plant and partake of the comradery it so naturally facilitates.
The world has changed in the last two years. Masks, vaccines, and more informed social protocols have made some gatherings possible. Those that can't happen in person now happen on screens. That means that weed festivals are back in business. In this article, we take a look at 19 events happening this year. Where they are, what they cost, and what sort of people go to them.
For All Denver Locals and Colorado 420 Visitors, read our Denver April 20th, 420 Event Guide Here
Weed Festivals & Cannabis Events List 2022
Cannabis Cup – Only Virtual for 2022 – People's Choice
Perhaps the most popular and well-known weed festival in the world, the Cannabis Cup has long been a haven for everything from marijuana-related competitions to educational programs. Traditionally, it's been an opportunity for cannabis lovers to come together in one place and buy, trade, and discuss all things concerning the cannabis plant.
Covid has different plans for the event this year. It's remote-only which may disappoint some users while opening the door to others. If you have a professional or simply intense interest in cannabis, this is a great way to indulge it.
Hash Bash – Ann Arbor, MI – April 2, 2022
The Hash Bash is a cannabis celebration with a distinctly legislative bent to it. Hosted at the University of Michigan in Ann Arbor each year, it's a festive enough occasion,  with speakers, musicians, and vendors giving all the appearances of your average community celebration.
Behind the festivities, however, there hides a serious purpose. People come from all over the country not only to celebrate cannabis, but also to learn more about it, and to advocate on its behalf.
If you're passionate enough about cannabis to come to the midwest in the early, chilly weeks of spring, this free festival might be a great fit for you.
You can also learn more from their Facebook group: https://www.facebook.com/groups/AnnArborHashBash/
CanniFest – Chicago, IL – April 9-10, 2022
CanniFest Chicago is a celebratory event that caters more to professionals. It began as a congregating point for cannabis farmers to come together and exchange ideas. In the intervening years since the beginning of the festival to where it is today, some things have changed.
Now, professionals from a wide variety of different backgrounds come for the music, the information, and the networking.
Location: Ravenswood Event Center
Saturday, April 9th – 11AM – 6PM CST
Sunday APRIL 10th – 11AM – 6PM CST
Tickets are around $30.
National Cannabis Festival & Cannabis Championship – Washington D.C. – April 23-24 2022
The National Cannabis Festival is a DC-based gathering that has a distinct focus on advocating for marijuana-related freedoms and rights.
While the event itself is held on April 23-24, there are speakers and demonstrations held all throughout the week, making it a great opportunity to meet some new people, and spend a decent chunk of time advocating for something you take seriously.
The event goes over two days and you can either purchase a one or two-day pass. General admission tickets cost $55 for one day passes and $95 for two days.
However, the entertainment is impressive. Wiz Khalifa is among the musical guests this year to perform on the first day and Slick Rick will perform on the 24th.
Location: RFK Festival Grounds, Washington D.C.
Denver 420 Rally – Denver, CO – April 20, 2022
The Denver 420 Rally is a cannabis gathering that features music, socializing and political activism. Started by Ken Gorman, a well-known cannabis advocate who famously ran for governor and was murdered in his home in 2007, the event continues in his honor, emphasizing the joys of cannabis while advocating for its future.
Location: Civic Center Park, Near the State Capitol
The Denver 420 Rally is free to the public.
420 on the Rocks – Red Rock Amphitheater – April 20, 2022
420 on the Rocks is a music-heavy cannabis festival held annually on Red Rock Amphitheater. This year Method Man and Redman are the musical guests. Tickets are quite pricey, especially relative to some of the other options on this list.
For fans of cannabis-influenced music, it's an exciting opportunity to get together with like-minded individuals.
Tickets range in price between $50-150.
NYC Cannabis Parade & Rally – New York City, NY – May 7, 2022
The NYC Cannabis Parade and Rally is one of the longest-running cannabis-related events in the world, with its origins stretching all the way back to 1973. Though the event has scaled down somewhat to accommodate New York City Covid prevention regulations, there is still plenty to do at the parade itself, and even more to do through virtual events.
Parade starts down Broadway at 11AM EST
Rally & Press Conference in Union Square at 12PM EST
Attendance is free.
Emerald Cup – Los Angeles, CA – May 13-14, 2022
The Emerald Cup is a long-running cannabis festival and competition with a major emphasis on the cannabis plant and the people who grow it. The festival includes cannabis, music, and food, and is a great celebration both for farmers and for people who simply enjoy a great gathering.
Gary Vaynerchuk will be one of the head speakers along with a musical performance by Juicy J.
It is a ticketed event, with prices ranging from $25 for basic entry, all the way up to $125 for VIP amenities.
Northern Nights – Humboldt County, CA – July 15-17, 2022
Northern Nights is a musical festival with an emphasis on cannabis that takes place in July. For people who were overwhelmed by all of the cannabis-related events taking place in April, it's a great way to sit back and relax with some great marijuana and music.
The festival takes place outdoors on the with many guests renting tents, RVs, or other outdoor accommodations.
For 2022, there is a full musical lineup including, Claude Vonstroke, TroyBoi, Clozee just to name a few.
Tickets can cost up to $300.
Location: Cook's Valley Campground, Humboldt / Mendocino County Line
Boise Hempfest – Boise, ID – July 16, 2022
The Boise Hempfest is a day-long festival featuring music, speakers, and a wide variety of food and merchandise available from local vendors. The event advertises itself as being family-friendly—though the extent to which this is the case may depend on how you raise your family.
The event is free but participants are encouraged to RSVP.
KushStock – Multiple Dates & Locaions
KushStock has grown its annual event from one location in Adelanto California to three others on different dates and locations. Their event caters more to users who simply wish to celebrate cannabis.
The event is ticketed, which means you should make plans in advance. Tickets are free.
2022 Dates & Locations Include:
April 9th, 2022 | Adelanto, CA
May 20, 2022 | Phoenix, AZ
July 9-10, 2022 | Las Vegas, NV
September 9, 2022 | Oklahoma
Check out their Instagram for more information on the event: https://www.instagram.com/kushstockevent/
ERRL Cup – Mesa. AZ – 3 Dates
The ERRL Cup is a competition that started as a means of advocating for medical marijuana patients. Not only does the festival reward high-quality cannabis but it also serves to add accountability to an otherwise often unregulated industry by allowing patients to speak out against sub-standard operators.
2022 Dates & Locations Include:
March 12-13, 2022 | Mesa, AZ
September 23-25, 2022 | Camp Verde, AZ
October 22-23, 2022 | Mesa, AZ
Tickets are required for entry but range considerably in price.
Some are free. Others can cost as much as $650.
HempCon – Multiple Dates & Locations
HempCon is a competition and entertainment gathering with several locations and dates, including Oklahoma, Michigan, and San Francisco. The event caters to cannabis enthusiasts from all walks of life but emphasizes fun, laid-back activities over advocacy or education.
2022 Dates & Locations Include:
April 15-17, 2022 | San Francisco, CA
June 19-20, 2922 | Clio, MI
Dates TBD
Los Angeles, CA
Oklahoma
Events, prices, and dates vary considerably based on the location of the event.
Oregon Hempfest – Oakland, Oregon – Date TBA
Hempfest is the only pro-cannabis celebration in the state of Oregan and has been in operation since 2015. The event emphasizes freedoms and protections for professionals operating within the cannabis industry, but there are also speakers and music.
It is a ticketed event with prices ranging between $20-40.
2022 Marijuana Conferences and Expos
CWCBExpo – New York City, NY – June 2-4, 2022
CWCBExpo is a B2B (business to business) oriented conference designed to bring cannabis professionals from all across the country together. Though not necessarily recreational in nature, it does have educational opportunities available in the form of booths and speakers.
It is a particularly good opportunity for cannabis professionals who are looking to make connections, and potentially get noticed.
Admission is granted following application approval.
MJBizCon – Las Vegas, NV – November 15-18, 2022
The MJBizCon held in Las Vegas is the self-professed largest cannabis business conference in the world. Though it is difficult to test the veracity of this assertion, there is no denying its impressive size. This year, 30,000 professionals operating within the cannabis industry are expected to attend.
The event is slated to host nearly 150 speakers over three days, giving attendees ample opportunity to connect with information and resources that are beneficial to their business.
Pricing varies based on your package:
Digital Only: $149
Expo Only: $399
Full Conference: $899
Canna Con – Multiple Dates & Locations
6 different conferences, 6 different dates
Canna Con is a large conference to be spread out across six locations, all in separate cities, held over different dates.
Canna Con South – Multiple Dates & Locations
Held in Oklahoma, and said to be the largest cannabis professional conference in the state, Canna Con South will take place March 31,-April 1, 2022. The event connects cannabis professionals all over the country with resources and products that may aid in their ventures.
Canna Con Detroit, featuring the same prices listed above, takes place July 21-22 2022.
Canna Con Chicago takes place August 26-27, 2022.
Canna Con West will happen in Denver Colorado on September 25-26 2022.
Canna Con South is to be held in Richmond Virginia, from November 19-20 2022.
Canna Con Northeast already happened on January 7th.
Though similar in nature and the same in price, each event may host unique vendors and participants, making each a good opportunity to establish new connections and grow professionally.
Registration fees for attendees range in price from $50-150 depending on how much access you want. Exhibitor fees are not listed but may be determined via inquiry.
Benzinga Cannabis Capital Conference – Multiple Dates & Locations
The Benzinga Cannabis Capital Conference is very business-driven and may be a suitable option for people who are hoping to make connections, and possibly even acquire capital investments. The conference also features discussions on market evaluations and other talking points that can be very useful to the cannabis business owner.
There are two conference dates and locations.
Miami will host the conference on April 20-21, 2022.
The California expo has not announced a date yet but is expected to take place in the fall.
Tickets are free for casual attendees but go up in price from there. The most expensive tickets are $500 for investors. Pre-registered attendees have the opportunity to get discounted rates at several hotels in the area, as well as other potential amenities.
USA CBD Expo – Multiple Dates & Locations
The USA CBD Expo takes place in Fort Lauderdale March 11-12, Columbia May 21-22, and Tampa November 10-12. Thought to be one of the biggest hemp-related expos in the country, these events are tailored equally to business people and consumers. For those operating a cannabis business, they serve as a great way to spread awareness and connect with customers.
At the consumer level, the festivals are designed to facilitate some shopping and connect guests with products they might not have known about before.
2022 Dates & Locations Include:
March 11-13, 2022 | Ft. Lauderdale, FL
May 21-22, 2022 | Medellin, Columbia
November 10-12, 2022 | Tampa Bay, FL
General admission is $45. Professional admission is $100. Press and buyers for businesses are allowed free admission pending approval of their credentials. Over three hundred vendors are expected to attend, bringing with them products from over 500 brands.
Latest posts by Austa Anderson
(see all)