What Is Cannabis Hyperemesis Syndrome? Heal The Mind With Information To Cure The Body Of Dis-Ease. (Part 1)
Tuesday January 17, 2017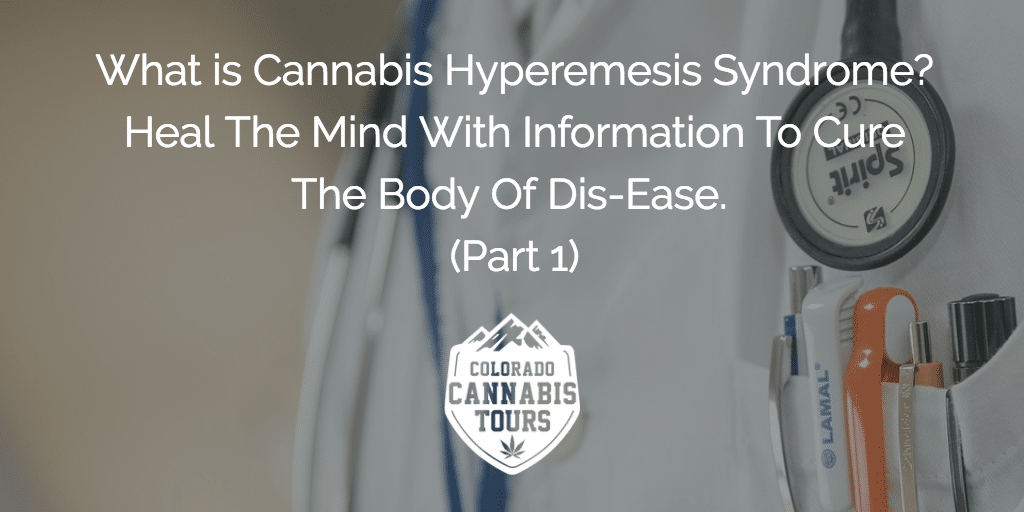 This series begins with several questions, as we uncover the truth about CHS (Cannabis Hyperemesis Syndrome).
The following questions will be investigated on our journey to the truth.
These questions, and many more, will be revealed as we dig deep into the information.
What Is Cannabis Hyperemesis Syndrome? Heal The Mind With Information To Cure The Body Of Dis-Ease. (Part 1)
In part 1 we will look at, the origin of CHS and what the medical system, supported by the government, has to say as it defines this "new" clinical condition.
The first documented cases of CHS (Cannabis Hyperemesis Syndrome) was discovered, in 2004, in South Australia by; J. H. Allen, G. M. de Moore, R. Heddle, & J. C. Twartz.
They studied nine patients and concluded the following, in the creation of CHS.
Definition of CHS (Cannabis Hyperemesis Syndrome
Those who "discovered" CHS say that it is psychogenic (having a psychological origin or cause rather than a physical one) cyclical vomiting. Persistent vomiting, severe nausea and abdominal pain, that can cause hospitalization.
Chronic cannabis abuse is what is the "alleged" cause of of CHS has been discovered to be.
The nine patients heavily used cannabis for months and years, prior to getting CHS.
They all had normal appetite, yet, lost weight, due to persistent vomiting, from CHS.
An interesting thing they all had in common was in frequently taking hot showers or baths. This was a learned behavior that would ease the pain, within minutes, of taking a hot shower.
What ended up causing the hospitalization was in running out of hot water, in which to achieve relieve. As the water cooled, the pain would return. Dehydration, was another reason for hospitalization, due to hot showers and fluid loss due to persistent vomiting.
Two of the patients reported to have scalded themselves in attempting to get the water as hot as possible.
Other symptoms included sweating and abnormal thirst.
Nausea could get triggered by the sight or smell of food and the fear of vomiting.
As the doctors began the initial phases of trying to figure out what is the cause of the following symptoms, they initially concluded that it was consistent with typical toxicity cases.
Naturally, the one "easy" thing for the doctors to conclude was that CHS was the results of toxicity from cannabis.
We, the cannabis community, know this is ridiculous because it is essentially impossible to overdose on cannabis, let alone have a toxic effect from it.
What the true cause of CHS could be, as what we will be discussing later on in the article series, involves another form of toxicity.
I believe these doctors are, essentially, right about this issue being a toxicity poisoning. However. What I disagree with, is the substance "they" claim caused the toxicity.
The other part of their initial diagnosis involved them considering if these patients were suffering from cannabis withdrawal.
So far we have uncovered two ridiculous concepts, in relation to cannabis.
These two ridiculous concepts are; cannabis toxicity & cannabis withdrawal.
There is essentially a 0% possibility of receiving toxicity from cannabis and also, a 0% chance of "suffering" from withdrawal symptoms, as described from this study.
Like with anything, even substances such as caffeine, quitting cold turkey can't necessarily come about with zero consequences.
The withdrawal symptoms one could encounter with quitting cannabis cold turkey are mostly psychological. You can quit cannabis, cold turkey, without worrying about it killing you.
Unlike quitting cold turkey with alcohol or even heroin or prescription drug. These drugs actually present a very real danger in quitting cold turkey.
With cannabis, this is one of the most safe substances to quit cold turkey. In my personal experience, of quitting several substances over my life, I was able to quit tobacco with ease. I also quit drinking alcohol for one year, with ease. Then I tried to quit coffee and HOLY MOLY! Trying to quit caffeine was by far the most painful experience, of any substance I've been addicted to and tried to quit. I decided not to quit coffee.
I was also able to quite consuming cannabis with ease. As much as I enjoy cannabis, I personally haven't consumed cannabis since the beginning of May 2016.
The cannabis withdrawal symptoms they do cite are the following. Nausea, vomiting, insomnia, irritability, and anxiety.
I can't speak for everyone. However. In my personal experience, of quitting cannabis, the only thing I struggled with, after daily chronic consumption for several years, was getting my appetite back. I didn't lose weight, I was still able to eat. But. My desire to eat, just wasn't there.
Continuing the story of these patients journey into the discovery of CHS.
As the CHS symptoms increased, so did their cannabis consumption.
We all know that cannabis has the ability to relieve nausea, and yet, for some reason, we will discuss later in the series, the cannabis wasn't bringing them the relief they were "predictably" seeking to find through increasing their cannabis dosage.
A logical question should come up at this moment.
If it is well known that cannabis has anti nausea properties to it, why didn't the researchers conclude the toxicity might have come from a different source?
How do they know cannabis was the reason for toxicity poisoning?
Since they didn't ask these question, I will be asking these questions and investigating, in depth, and reporting the conclusions that I discover.
It is very important to ask the proper questions and receive answers from appropriate sources.
If you don't ask the question, you can't receive the answer. And for these researchers to think that cannabis, in itself, was the reason and the sources of toxicity is to completely miss the mark and essentially show your lack of education and basic understanding of how cannabis works.
Moving on.
As these patients were taken off of cannabis, they were given Benzodiazepines to relieve them of cannabis withdrawal symptoms and to relieve psychological craving.
Interesting as to why they would be given benzodiazepines. Benzodiazepines killed just a little under 10,000 people in 2015, as reported by the link below.
https://www.drugabuse.gov/related-topics/trends-statistics/overdose-death-rates
Also. The withdrawal symptoms from benzodiazepines, compared to the withdrawal symptoms from cannabis, are INSANELY worse.
I won't list all of the potential withdrawal symptoms from benzodiazepines, you can click on the link below to look at all the symptoms. I will, however, list a few of the INSANE withdrawal symptoms.
https://en.wikipedia.org/wiki/Benzodiazepine_withdrawal_syndrome#Signs_and_symptoms
As I'm looking at this list, I have a hard time picking out a few of them to list. There are so many and a LOT of them are so severe, it's insane that these pills are actually considered to be medicine, let alone legal!
Here we go. Here's a list of a few of the withdrawal symptoms from benzodiazepines.
Suicide, violence, Urges to shout, throw, break things or harm someone, PTSD, homicidal ideation, coma, hallucination, death, restless leg syndrome, electric shock sensations, hearing impairment, metallic taste, etc.
Mind you. This is a VERY short list of the withdrawal symptoms from benzodiazepines.
Much more to explore in this article series.
As we continue to progress through the information, it's interesting to note, the only way the researchers were able to recreate the effect, was not through the chronic smoking of cannabis. But. Through "insane" methods we will we talk about throughout this article series.
They also wonder why CHS takes years to develop and weeks to return after cannabis consumption has been halted and then resumed.
There is much to explore as we go deep into all of the information.
Let's move onto What Is Cannabis Hyperemesis Syndrome? Heal The Mind With Information To Cure The Body Of Dis-Ease. (Part 2).
In part 2 we will discuss the importance of, who you should listen to, as you are processing new information.

Latest posts by Joe Powers
(see all)