What Is Cannabis Hyperemesis Syndrome? Heal The Mind With Information To Cure The Body Of Dis-Ease. (Part 6)
Tuesday January 17, 2017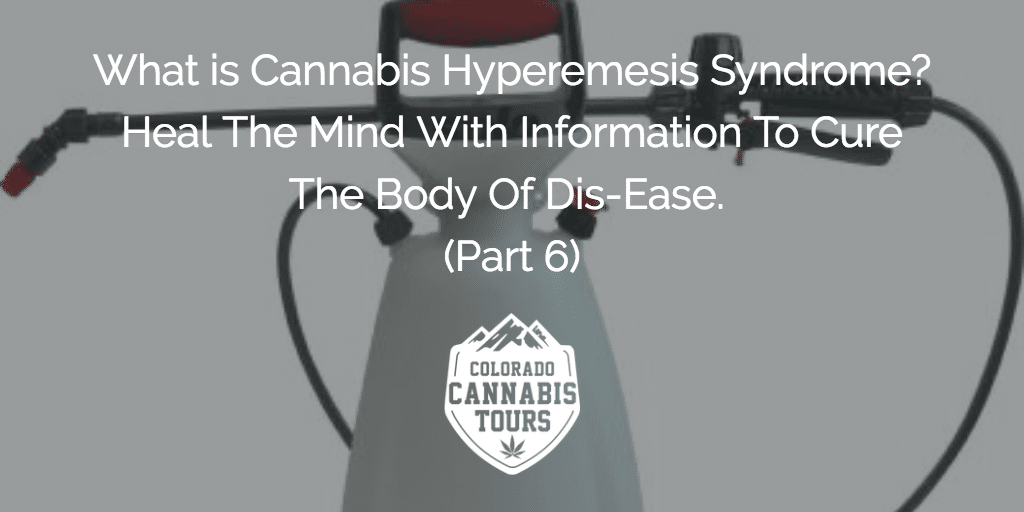 This series begins with several questions, as we uncover the truth about CHS (Cannabis Hyperemesis Syndrome).
The following questions will be investigated on our journey to the truth.
These questions, and many more, will be revealed as we dig deep into the information.
What Is Cannabis Hyperemesis Syndrome? Heal The Mind With Information To Cure The Body Of Dis-Ease. (Part 6)
In part 6 of this series, we will be discussing what the cure is for CHS (Cannabis Hyperemesis Syndrome), how to find relief during the experience of symptoms, and how to avoid getting it in the first place.
As I began to do an in depth search for the cure for CHS, I began to realize that, there isn't a whole lot of information about "fixing" yourself, once you've contracted this condition.
How the medical community will cure you is by making you stop consuming cannabis and try to manage symptoms with prescription drugs.
Currently I found a few tricks, revealed by the person who discovered that CHS is actually Azadirachtin poisoning.
What are some tricks to relieve the pain you're experiencing from Azadirachtin poisoning?
For starter, one of the "strange" behaviors the clinical researchers uncovered was that all the patients, they were studying, had a compulsive habit of taking really hot showers, or baths. Somehow bathing in really hot water managed to eliminate the pain for short periods of time. The relief would only happen as the water was at a REALLY hot level. Once the water started to cool down, they reported that the pain would start to return.
The reason for hospitalization was usually because they ran out of hot water and couldn't find any other method of relief. Also part of the reason for hospitalization could have been dehydration from extended hot bathing and constant vomiting.
To find relief, taking a hot bath could be a method you could try out first to get instant quick relief. However. I wouldn't be focusing on using this strategy to cure yourself long term. This method should probably only be used short term, while you're are working at figuring out how you're going to utilize the other methods we will talk about.
The next, most immediate thing you need to do is, stop smoking the cannabis that has been sprayed with toxic levels of Azadirachtin. This is actually, probably the very first step you should take, before jumping into a hot shower.
What's interesting is that the government researchers even acknowledge the "paradox" of how cannabis is suppose to relieve nausea, abdominal pain and overall pain in general. However, this was not the case with the patients they researched. There were a handful of patients who were "cured" of the condition, only to relapse into the condition after smoking cannabis again.
Interestingly, the government researchers initially assumed, and proceeded to produce their data from the point of CHS had to be caused by cannabis abuse. And so they go in depth into their theory as to how come the patients relapse into CHS after weeks of abstaining from cannabis consumption. They discuss how THC binds with the fat cells and gets stored, thus after going back to cannabis consumption, the THC is already there and releases itself, thus causing the pain to come back quicker. Blah blah blah.
What an alternative theory could be, is that the patient who relapsed into experiencing intense abdominal pain probably did, was consume cannabis that had the Azadirachtin on it, again.
If you didn't know that Azadirachtin was the cause of the problem in the first place, you probably would never guess that you shouldn't be smoking cannabis that was treated with Azadirachtin.
The next method to try is to consume cannabis that hasn't been treated with Azadirachtin. This method, I would urge you to try with caution. Currently I was unable to locate information about how to figure out if your cannabis has been treated with Azadirachtin. The only real way to know is by asking the person who grew it.
Yet again, you have to be careful here. Because, the person who did the research, that discovered CHS is Azadirachtin poisoning, got lied to, by the grower who used Azadirachtin on the cannabis. The grower researcher that got lied to, knew he was lied to, after consuming it, feeling mild symptoms, confronting the Azadirachtin sprayer, got lied to again, trusted him, ended up being hospitalized again, confronting him AGAIN, and then finally he admitted to using Azadirachtin on the cannabis plant.
After learning about this story, I really really want to find someone, who is smart enough, to develop a tool, to test cannabis for Azadirachtin. How would the average Joe go about creating a way to test the cannabis to make sure there is no Azadirachtin on it?
Furthermore. I also want to find a method for testing your body to confirm you have Azadirachtin poisoning, instead of being diagnosed with CHS.
Why?
Because the government doctors are very smart and have very articulate and sophisticated arguments for their research and their findings.
If we, as a cannabis community, can figure out how to develop these tools, we can be certain that we can help a lot of people who are suffering from Azadirachtin poisoning. And w can stop the misinformation from populating.
The final methods to find relief, if you're currently experiencing symptoms, is what the cannabis grower who discovered CHS is Azadirachtin poisoning used when he was experiencing symptoms.
Before I reveal the methods used. I'll quickly cite the research the medical community used to treat CHS.
In the end, the point of the medical community doing research on "cannabis abuse" is to get you to stop consuming cannabis. If you feel like it is a better idea to listen to the medical community on this topic, it's probably best that you stop using cannabis.
They say that lorazepam or haloperidol has provided relief for some people. Apparently their "usual" methods to relieve vomiting failed to work. These two prescription drugs, in my opinion, are very dangerous and have associated death with them.
Let's look at the final methods for finding relief.
According to the person who discovered this condition was due to Azadirachtin, there are a few methods to find relief.
To find stomach relief you can drink, home-made honey mead. Who has home-made honey mead sitting around though?
Next, eating garlic pan-fried in olive oil. The claim, for how garlic works, is that it decreased the buildup of gas in the intestines and greatly reduced the pain, for a while.
Next. Fermented foods appropriate to your blood type. Here a list of a few fermented foods. Kefir, Kimchi, Kombucha, Miso, Natto, Pickles, Sauerkraut, Tempeh, Yogurt.
The theory, from the discoverer, is that the good bacteria, was killed from the Azadirachtin and the fermented food will put the good bacteria, back into your stomach and intestines.
Now that we've reached the end of this series, I feel confident that we are on the right track in catching the medical community in a lie.
Whether this lie was unleashed as a direct attack on cannabis, will be never be known. This very well could have been stealth warfare, on the cannabis plant and the cannabis community, to scare us into quitting cannabis. Or at least scare us back into agreeing with prohibition laws.
What is clear is that we need to have accurate information and we need to know who to listen to as we continue into the bright future of global legalization laws that will allow us to travel the world with our cannabis in our pocket.

Latest posts by Joe Powers
(see all)