In Colorado, you'll find a coffee shop on practically every street corner. The trick is finding that cafe with the perfect balance of atmosphere, bonus goodies, and, of course, amazing coffee. This guide includes coffee shops that hit all three criteria, ensuring a total experience on top of a guaranteed morning rush. Additionally, these shops are specific to Colorado Springs; you won't find them anywhere else.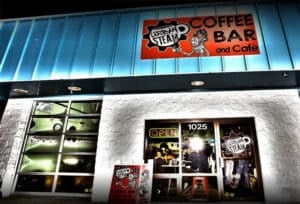 Urban Steam is a great place to let off some post-workday steam or to just chillax any day of the week. They're equal parts coffee bar and liquor bar, and if you're feeling up to it, try one of their whiskeys with that cup o' joe. If the whiskey works up an appetite, they've got some of the coolest waffle combos in the city, and their late-night menu offers healthier options to the stuff you'd find at most bar-time establishments.
If whiskey isn't your cup of tea, then how about wine? Peak Place has two locations (well, technically three, but two of them are adjacent to one another) in the Springs, and they serve wines from around the world as well as over three dozen Colorado microbrews. Oh yeah, the coffee is really excellent at this swanky, classy roast house, too.
For many coffee lovers, curling up with a good book and a hot cup o' joe is the ultimate form of relaxation. Agia Sophia looks more like a small library stowing away in a classical Russian home than it does a coffee shop, with plush sofas, wooden desks, and shelves filled with books of all kinds.
With the TV show Twin Peaks making a comeback, fresh pie will be the meme of the year. STIR bakes an assortment of their own in-house pies, so treat yourself to a slice of rich delectability with that steamy mug. Their location sits just on the outskirts of the downtown area, so if you want to escape the busy movement of the business district while accompanied by local art and music, swing by.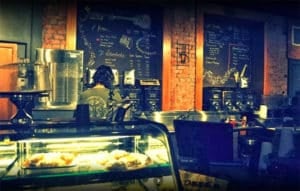 The epitome of the "cool" coffee spot, Jives has two locations in Colorado Springs. Both host laid-back settings and cater to a college crowd, but free wi-fi, good music, and endless opportunities for stimulating conversation make it an excellent place for folks of all ages. In terms of food, you'll find the usual cafe fare here, but their service and quality is unmatched in the Springs area.