MassRoots Munchie Crawl with Colorado Cannabis Tours
Wednesday September 30, 2015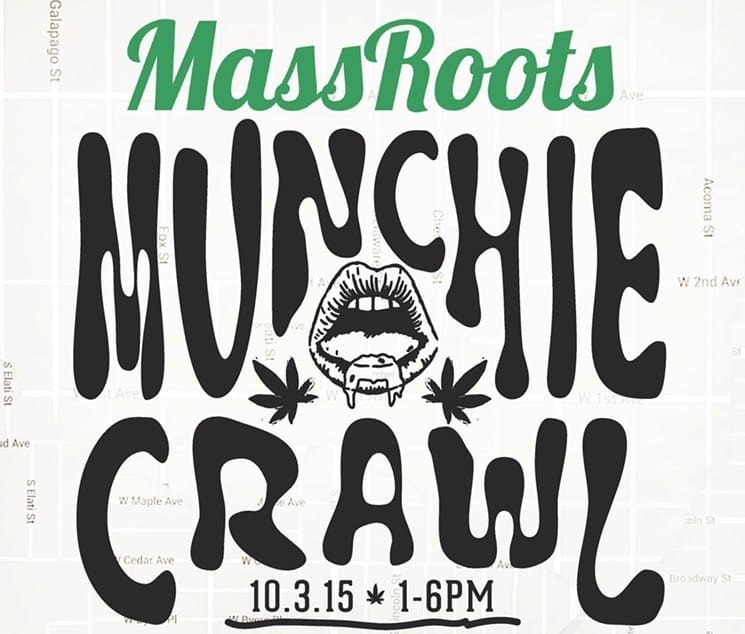 It's just like a pub crawl – with cannabis. The first MassRoots Munchie Crawl will take place on Saturday, October 3rd, from 1:00 pm to 6:00 pm and Colorado Cannabis Tours will be on hand for all the festivities!
Devised by the team at MassRoots, the first annual Munchie Crawl will take participants on a stroll of the historic Baker neighborhood in Denver, with stops along the way at dispensaries including Denver Relief, L'Eagle, Peak, and Sticky Buds. Pick up some of the best edibles Denver has to offer; wristband holders will enjoy great deals and discounts from all of the participating dispensaries, as well as some special items from the team at event sponsor Better Baked. An abundant spread of non-infused snacks will also be available throughout the crawl to handle the onset of any sudden munchie attacks.
Colorado Cannabis Tours will provide an official Munchie Crawl party bus for the event, with entertainment courtesy of Weed Stream. Proceeds from the event will benefit the Art of War Project, a non-profit dedicated to promoting health and healing among veterans suffering from PTSD through the power of art.
The Munchie Crawl will conclude with an after party at 3 Kings, where Colorado Cannabis Tours' party bus will be stationed outside for munchie crawlers to relax and snack. Tickets are $35 and still available for the first annual Munchie Crawl. Join CCT and the MassRoots team for a great cause and a chance to get some fantastic deals on Denver's finest.

Latest posts by Brittany Driver
(see all)