Cannabis Cup is Coming! Join the Biggest 420 Party in America
Thursday March 19, 2015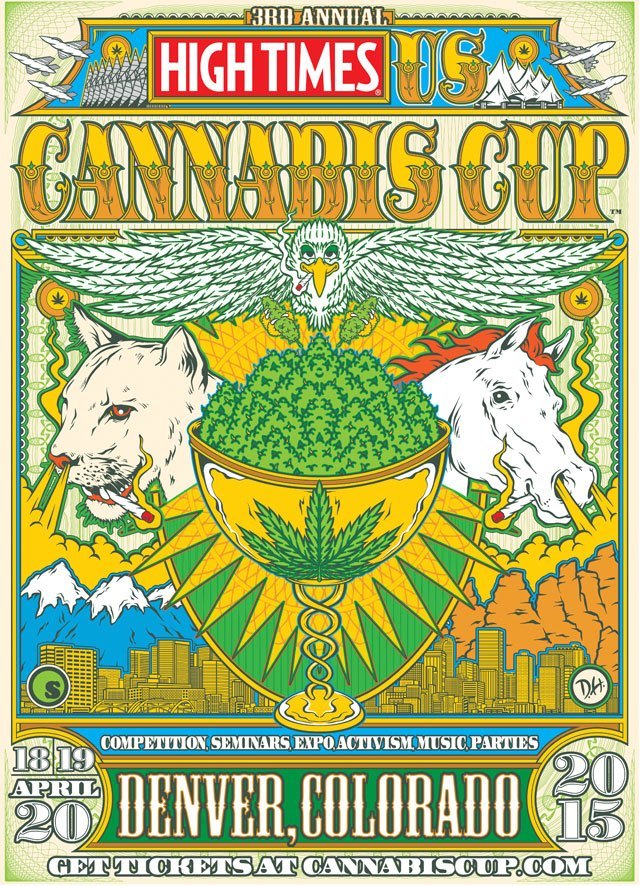 Cannabis Cup is Coming!
Join Colorado Cannabis Tours for the Biggest 420 Party in America
Last year's High Times U.S. Cannabis Cup marked a historic moment in cannabis culture, celebrating the legalization of recreational sales and adult use in the state. The 2014 Cannabis Cup brought a record breaking number of enthusiasts to the Mile High City, soundly defeating any previous attendance figures for the legendary High Times event. And the 2015 Cup, running from April 18th to the 20th, promises to be bigger and badder than ever.
Founded in 1988, the High Times Cannabis Cup is the world's premier marijuana festival, a multi-day spectacle dedicated to sampling, sharing, and judging some of the world's finest cannabis creations. This year's event at the Denver Mart will feature over 700 vendors, ranging from licensed dispensaries, to gourmet edibles companies and creators of handcrafted glassware. Judges will be on hand to asses the best offerings in a variety of categories, including Best Glass, Best Edibles, and Best U.S. Indica and Sativa.
This year's event has been expanded to three full days at the Denver Mart, featuring special performances by SOJA, Nas, J-Boog, and Snoop Dogg. Outside the official roster of Cannabis Cup activities, local venues and business have an equally impressive schedule of activities planned to mark the occasion. The 420 in the Streets concert will include performances by Method Man and Redman, Cypress Hill, and Collie Buddz. To make the most of this remarkable event, Colorado Cannabis Tours is offering visitors access to all the amenities necessary to plan the ultimate weed-centric vacation, including exclusive deals on 420 friendly accommodations, complimentary vaporizers, and a special Cannabis Cup edition of Denver's most comprehensive marijuana tour – featuring a surprise appearance by a very special celebrity guest. Colorado Cannabis Tours has teamed up with a diverse selection of marijuana friendly lodgings, allowing visitors to easily book accommodations along with their daily tours and activities. Be forewarned though: Cannabis Cup is expected to attract an unprecedented crowd this year. Book early if you don't want to miss out on the true Mile High experience.
For more information on Denver Hotel Bookings for Cannabis Cup or call +1-303-420-TOUR (8687). Hurry, Hotels are selling out quickly!

Latest posts by Colorado Cannabis Tours
(see all)