No Better Place To Be
Social events always lead to one big question for me…where is the weed and where can i smoke it? Anyone who has been to a party with me can attest to it. And while pot is a given at parties and casual get-togethers, regardless of which of the 50 states you are, what about the fancy dinner party I'd been invited to with food prepared by a Top Chef winning culinarian?
It turned out, deciding when to start smoking was the only stress associated with a this dinner party.
Mason Jar Event Group, the Boulder based brainchild of Kendal Norris, has a fairly simple goal. Get together great food and drink, great company with great cannabis – and have a party! With so very few legal ways to consume marijuana in Colorado, outside of your own home, Norris' scaled up get together are providing just that.
Mason Jar Event Group has a fairly simple goal: get together great food, great company, great cannabis – and have a party!
At Mason Jar's Fall event, which I had the pleasure of attending, there was a powerful feeling in the air. The venue was outside (and on private property) and as I approached that familiar skunky smell wafted around me. "Goodie Bags" curated by Headquarters Cannabis Company had been picked up, off site, at the Headquarters dispensary and paid for separately from the event ticket.
Mason Jar and their participating sponsors abide by the rules set in place regarding cannabis in the areas they operate in – that's very important for Norris' piece of mind and for the comfort of the attending guests. Part of the package in going to a dinner party like this is the ability to consume marijuana and have a decadent time without the fear of the police busting it up.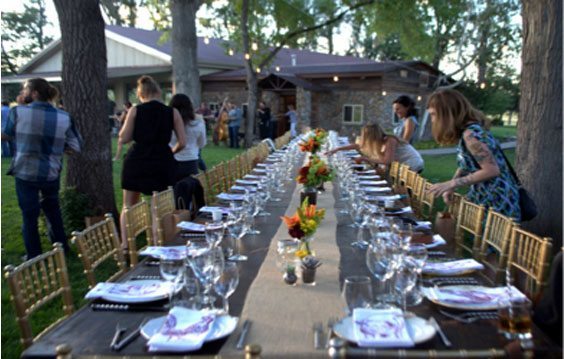 Attendees at the Fall event were absolutely taking advantage of their Colorado cannabis rights. Most had no more than entered and put down their things at a place setting before sparking up their first weed course, a pre-rolled joint of Lamb's Breath (if I remember correctly). As the sun began to set and the sky grew darker, tiny white lights strung above the 60 person setting dinner table lit the scene.
I had smoked my pre-roll when I noticed the centerpieces – tiny mason jars containing glass one hitters. Their presence was spot on – because I'd brought papers and a lighter along but no grinder. No grinder does not equal a successful joint in my hands. "Don't mind if I do" I thought as I retrieved my next strain to be enjoyed with our first course.
Each of the evening's courses had a cannabis strain pairing and/or an alcoholic beverage pairing, if you were so inclined. As an added safety precaution, all Mason Jar Event tickets include a complimentary shuttle ride from either Denver or Boulder, their way of doing their part to prevent any unsafe driving.
As our final course, deconstructed s'mores arrived and chef of their Rosenberg blue and hot chocolate over each plate speaking to each guest individually it occurred to me that I might have died and gone to heaven.
But I hadn't… Instead I just been in the right place at the right time a mason jar of a group party on a crisp fall evening it doesn't get much better.