What it's like on a Colorado Cannabis Tour
Friday July 22, 2016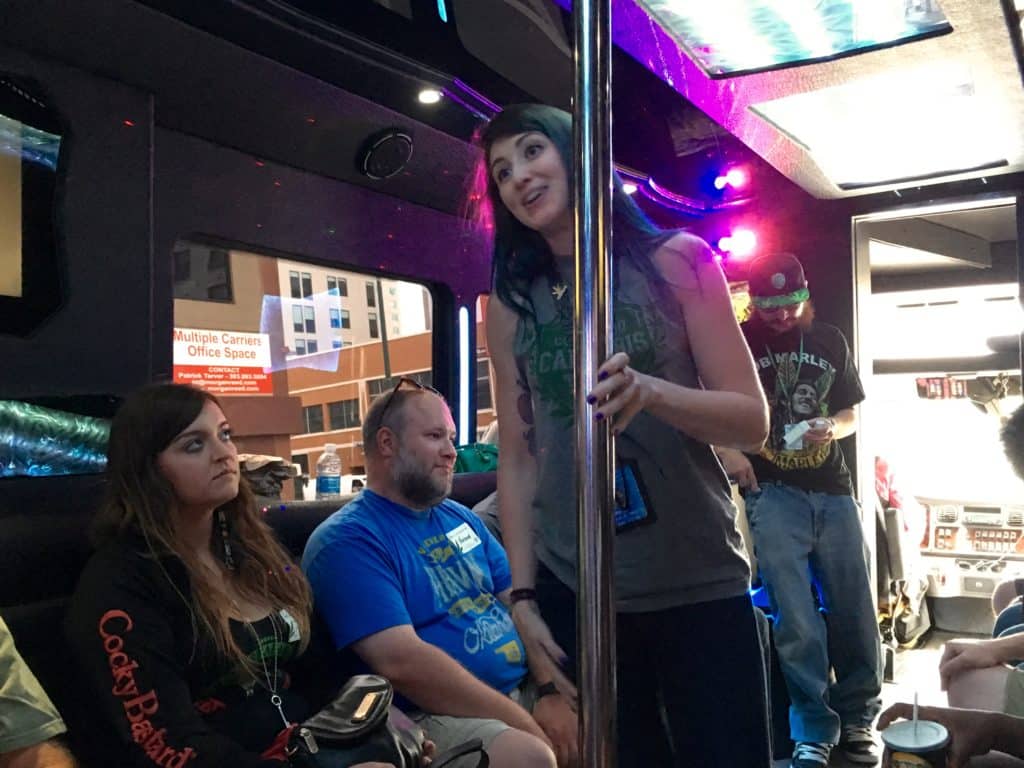 Each weekend, dozens of curious canna tourists round up at the downtown Denver Cheba Hut, a local sandwich spot. While heavy on stoner humor, this restaurant doesn't actually sell any weed-infused products. Cheba Hut, a well-known Colorado staple, has their menu themed in a certain cannabis-centric vernacular, like a pinner Kush or the Acapulco gold. Guests are encouraged to grab food before the tour begins, as a little grub will give you staying power when the weed starts kicking in. You'll definitely want to grab a giant Rice Krispy treat! They are a tasty treat when the munchies strike. As departure time rolls around, people file onto the luxury party buses, excited beyond belief, and usually a little nervous about what the foreign events of the day will bring.
As they get comfortable in their seats and make friends with their stoner tour companions, the music gets bumping and some joints usually get started in rotation. The guides take some time to introduce themselves, and go over the ins and outs of consuming cannabis at high altitudes. Amidst the anticipation, people often forget that being a mile above sea level changes your body chemistry, including your ability to metabolize things like cannabis and alcohol. Using these substances at high altitudes affects everyone a little differently.  At CCT, we want to make sure you have the most enjoyable experience possible, so please imbibe cautiously and responsibly.
The time spent on the bus in between the stops is where the real magic happens. This is where get to know your fellow pot smokers. People on the bus share strain stories, edible dosing advice, favorite brands, where they got their vape pen, or how their arthritis has been comfortably less noticeable since their weed vacation began. As the bus rolls down the Colorado highway, the bong is passed, and a video of stoner friendly footage plays across the large screen. Sometimes it's good to have some cinematic eye candy when people's social skills take a turn for the more introspective. Strangers make new friends as they share buds, ask questions, and mingle with their cohorts on this adventure. Having laidback conversations about cannabis, and maybe broadening their horizons a little bit further. Experiences like this are the first for a lot of people in the mainstream possibilities of cannabis culture. When the timid grandmother from Ohio starts taking bong rips next to the studious investors from Alaska, you know it's an exciting time to be exploring the weed industry.
Visitors from all walks of life come through Denver to check out the wild world of weed, and we like to show people the best of what the industry has to offer.
As the crowd settles in for an experience that will likely change their view on this humble plant forever, we make our way around the mile high city. People often feel a little surrealism on the tour, as smoking pot has been so hush-hush in a lot of our society. Being able to share your toke without stigma or judgment gives a sense of normalcy to the whole experience that people love.
Our grow tour touts one of the biggest indoor grows in Colorado. And our expert guides explain the ins and outs of commercially grown cannabis, from cloning and nutrients to harvesting and curing. Questions are welcomed, and our tours get an up close and personal view of some live cannabis plants! After a little time to shop at the onsite dispensary, guests make their way back on to the bus and off to the rest of the stops on their tour.
The glass-blowing demonstration is always a fun part of the tour. It's not often that people get to see this underground art, and experience the talent and effort that goes into every piece. Not only do our tours get to see the entire process of making a glass piece, they have the opportunity to support local artists, and usually find a unique (and useful) souvenir to commemorate their cannabis tour.
As the afternoon winds down, the bus makes its way through busy streets of Denver. 4:20pm approaches, and a group of hazy bus riders zen out to The Who as it wades through the ever increasing traffic that is downtown. We make our way back to Cheba Hut, and everyone is reminded to collect their belongings, purchases, and to keep their experience close. I always have to thank people for taking a tour, and trying out a foray into cannabis culture. It's a brand new world.  It can be exciting and scary as this isn't the same world of weed you're probably used to. Here in Colorado, we are trying to do things right, and we want to help you learn everything you want to know about cannabis culture. So give us a call, or a visit, and come see something you haven't seen before.

Latest posts by Colorado Cannabis Tours
(see all)