Day Trips from Denver | Exploring Scenic Drives, Towns, and Outdoor Adventures
Friday June 16, 2023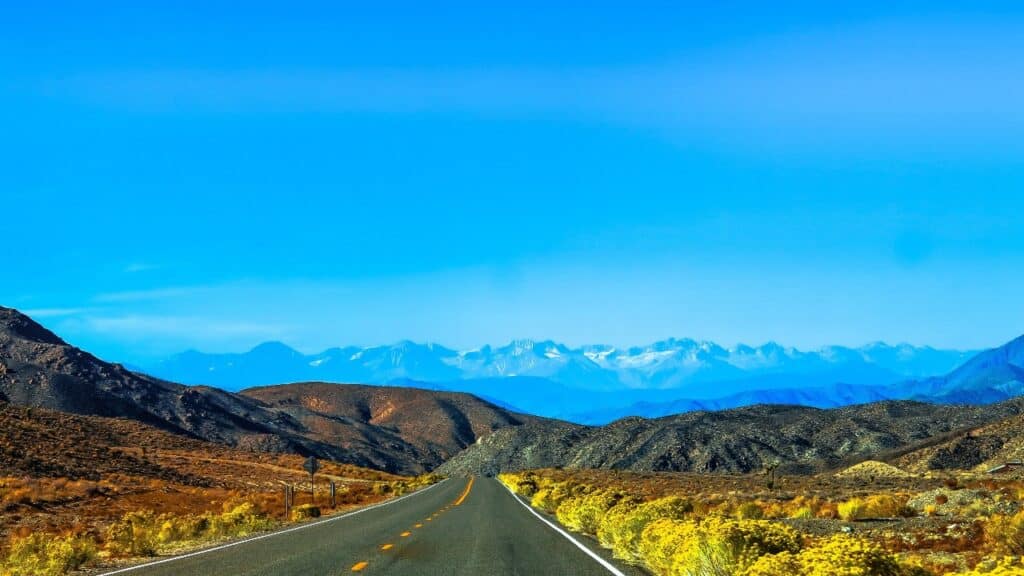 Denver is primely located not just as a cultural hotspot, but as a city located in the beautiful and scenic state of Colorado. If you find yourself wanting a retreat from city life while you are in Denver you won't have any trouble finding a beautiful place to spend a quiet afternoon.
In fact, the big issue won't be finding somewhere to go, but figuring out how to narrow your options a little bit. That's where we come in.
In this article, we spotlight some of the most beautiful locations in the Denver area, helping you to identify ideal spots for a scenic outdoor adventure.
Denver Day Trips
There is something profoundly idyllic about setting out for the day with a picnic basket, some sunscreen, and a mind eager for adventure. From Denver, there is no shortage of locations to plan a day trip around. The list below features spots chosen specifically for their accessible driving distance, scenic beauty and countless things to do.
Keep reading to learn more about all the opportunities for exploration in the Denver area, and some you may have never thought about!
Rocky Mountain National Park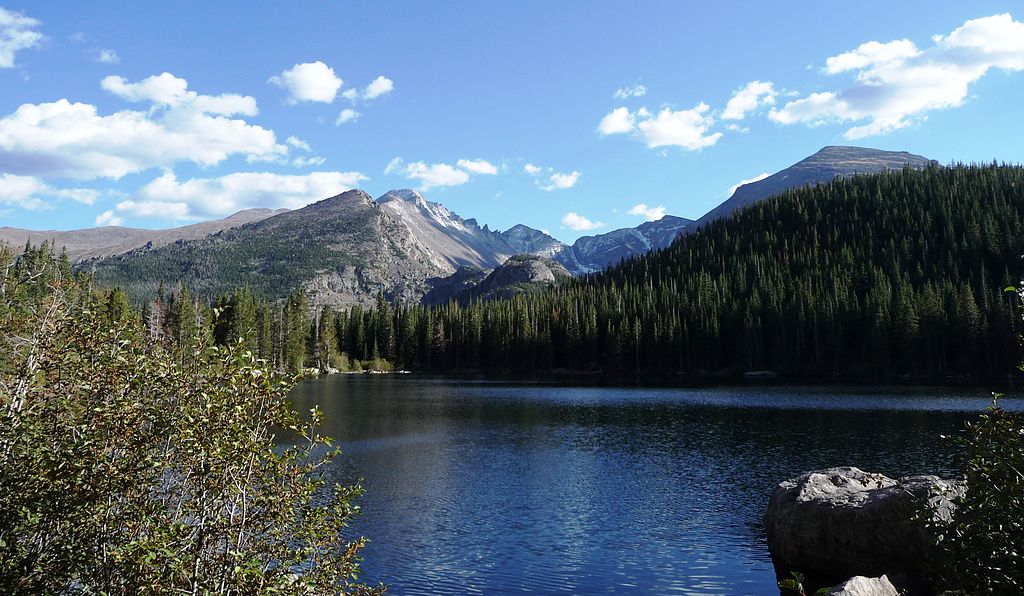 Located only about an hour and a half away from Denver Rocky Mountain National Park is a nationally recognized nature preserve filled with sites you can only experience in Colorado. The terrain is characterized by gorgeous mountains that loom over the horizon and features thousands of acres that can be explored. The park also allows camping giving you the opportunity to extend your stay.
Garden of the Gods
The Garden of the Gods is a geographically unique area in which extensive grasslands collide with a bustling Juniper forest. The landscape is framed by mountains, and from a geological perspective is considered a scientifically important melting pot of natural geography and ecological history.
You don't need a PhD the beauty, though. Head over with a picnic lunch and enjoy sites you can't experience anywhere else.
Red Rocks Park and Amphitheater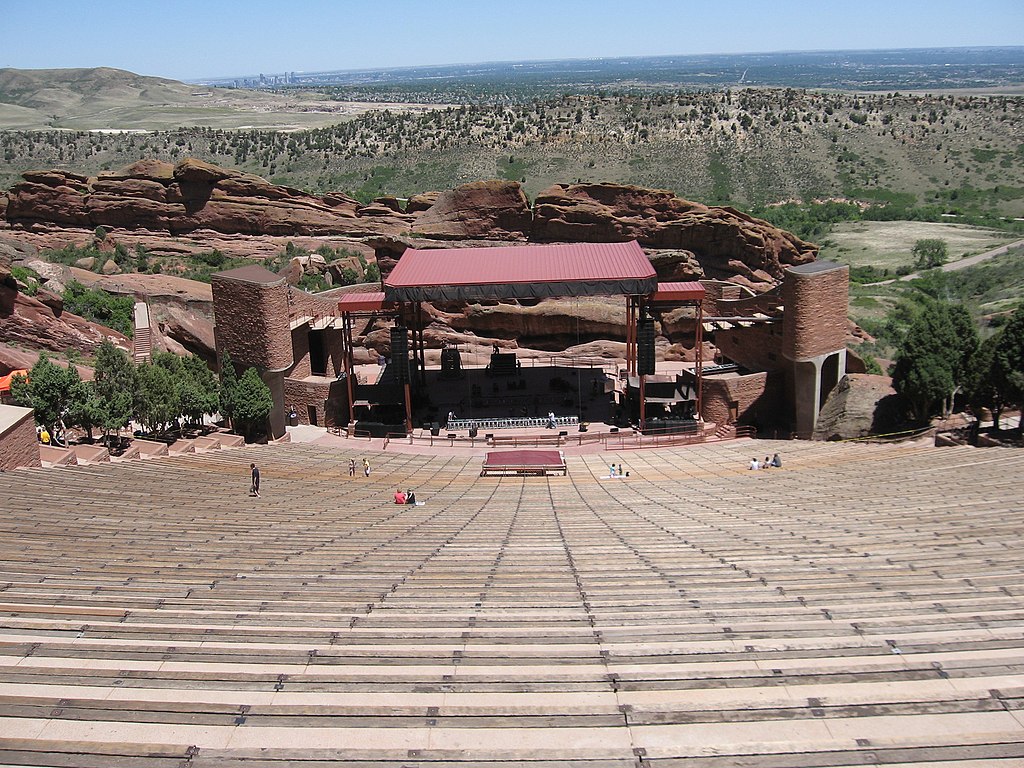 Talk about unique! The Red Rocks Park and Amphitheater is a thriving nature reserve that culminates at the base of a mountain where an enormous open-air amphitheater has been artfully built directly into the rock side.
The area is not only beautiful but also recognized for its natural acoustics, which makes it an exceptional concert venue. Many musicians and bands dream of playing at this venue, so you could even plan your day trips to coincide when one of your favorite artist is playing.
Pikes Peak
Pikes Peak is the highest summit in the Southern Range of the Rocky Mountains. Driveable from Denver, around two hours, this area allows you to either hike or drive to scenic overlooks with sweeping views every way you look.
From the highway, you can drive approximately twelve miles of the mountain range, which culminates at a peak of about 14,000 feet. It's hard to beat a view like that!
Estes Park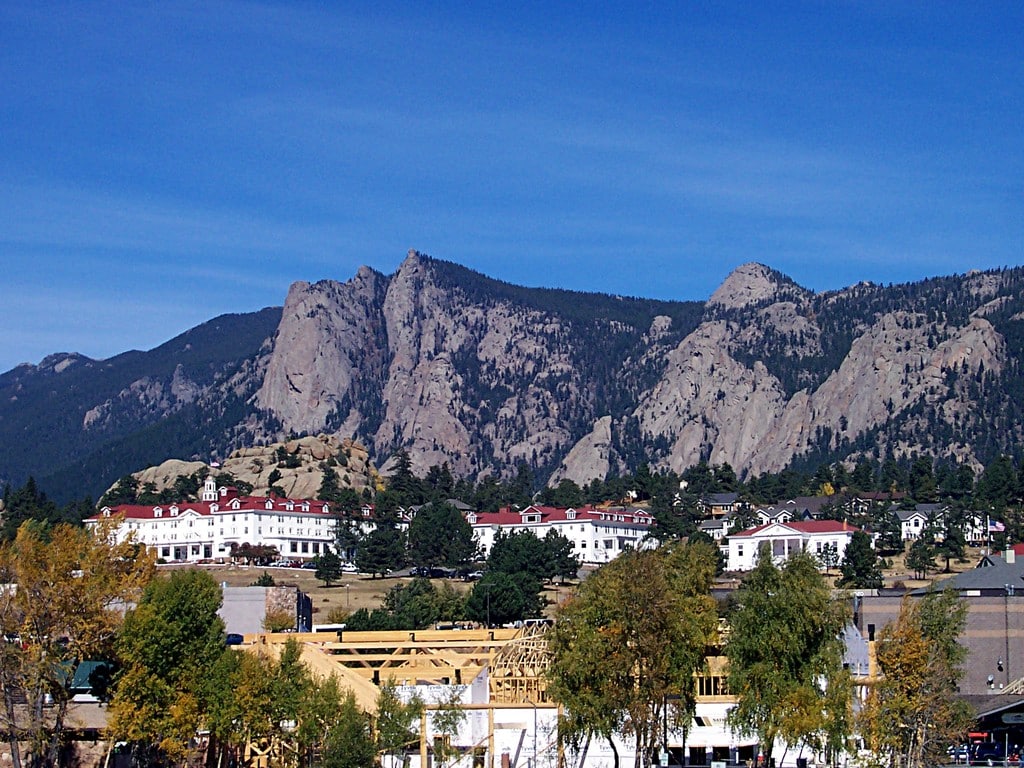 Estes Park is actually a small town in Colorado, known for being the base headquarters of Rocky Mountain National Park. The town provides park access, and includes a number of other tourist-enticing attractions, including museums, restaurants, shops, and more.
If you are interested in a natural experience complemented by the comforts of modern living, Estes Park will provide a pleasing blend of both experiences.
Cheyenne Mountain Zoo
Cheyenne Mountain Zoo provides a different type of natural experience as it's America's ONLY mountain zoo. Located over 140 acres (one hundred of which are forested and inaccessible to visitors) the zoo is located more than 6000 feet above sea level, giving you gorgeous looks at more than just animals.
And of course, as a zoo, it also provides you the opportunity to see over 800 different species, 30 of which are endangered.
Royal Gorge Bridge and Park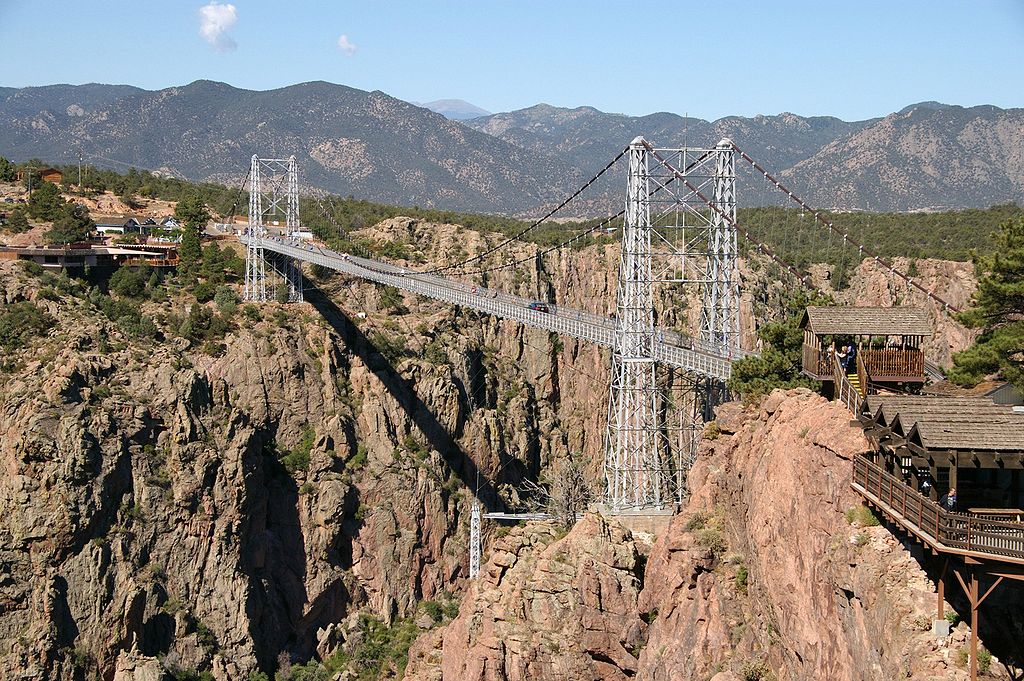 Classified as an "amusement park," Royal Gorge was once home to the highest bridge in the world. While it lost that title twenty years ago, it remains a destination better avoided by those with a fear of heights.
The rides all utilize the views and great heights to give visitors an experience they simply can't find anywhere else in the country. And of course, you don't have to be a thrill seeker to enjoy this unique spot. Lovers of natural beauty will find more than plenty to enjoy.
Lookout Mountain Park
Lookout Mountain Park is a scenic hiking destination located in the gorgeous town of Golden, Colorado, just thirty minutes outside of Denver. Even though it is close to a major city, it features a modest population and has loads of small-town charm.
The park itself includes numerous hiking trails and (because this is Colorado that we are talking about) plenty of elevations that provide excellent views for those willing to commit to a bit of a climb. This is another destination that is great for people who want to combine a rustic wilderness experience with the comforts of a unique and charming small town.
Arkansas River
The Arkansas River is actually a major tributary of the Mississippi that flows through many states throughout the country. While there are many spots to take in this natural marvel, Royal Gorge Bridge and Park is as good a place as any, but there are many more including the Arkansas Headwaters Recreation Area.
You can take in the views from up high, or find a hiking route that will give you a closer look. Arkansas River is a popular destination for fishing, as well as numerous other recreational sporting activities, such as whitewater rafting and kayaking. So plan accordingly if you are interested.
Weekend Trips from Denver
If you're looking to get away from the hustle and bustle for a little bit longer—say, an entire weekend—there are plenty of opportunities to do that as well. Denver is located within driving distance of loads of exciting weekend destinations that range from self-pampering opportunities to scenic natural experiences. Some destinations even combine both features for a tantalizing blend that will leave you with a weekend experience you won't soon forget.
Great Sand Dunes National Park and Preserve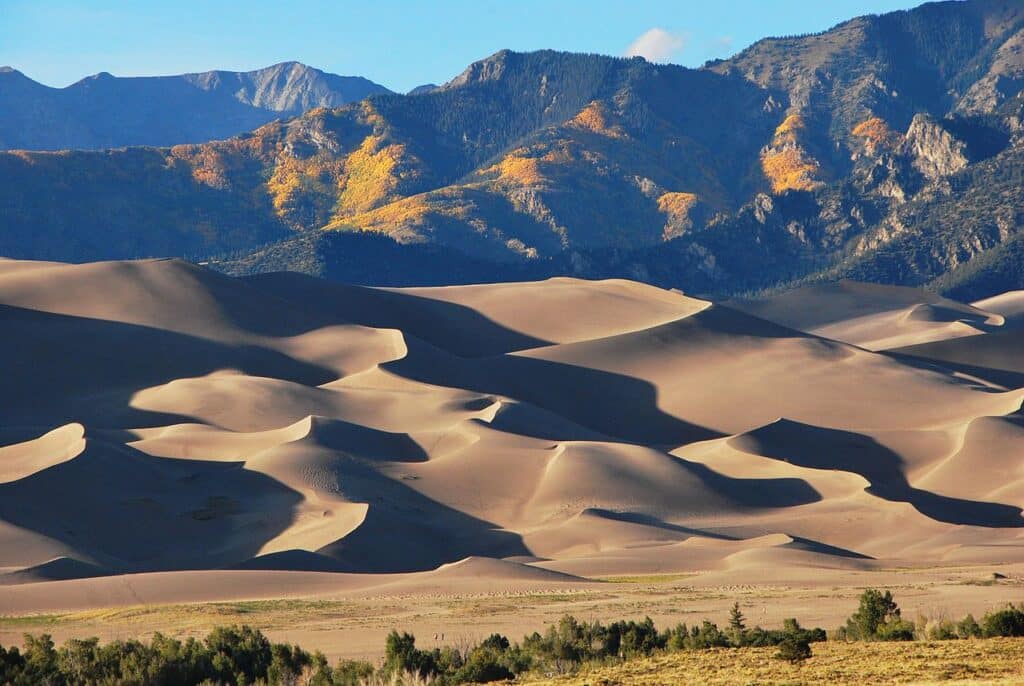 The Great Sand Dunes National Park is a unique landscape you wouldn't expect to find in Colorado. Located southwest of Colorado Springs, it is favored by tourists for its stunning dune formations and access to geographical diversity. In addition to featuring a prominent canyon, the site also winds through rivers and lakes that are noted for their excellent fishing. If you want an outdoor experience that can provide a great diversity of experience this is the place for you.
Oh and if you're feeling like you want to get a little sandy, rent a few sand board or sleds so you can carve your way down the dunes. Disclaimer: Expect to find sand in your ears and hair for the next several weeks. Don't ask us how we know…
Browns Canyon National Monument
Located in Salida Colorado, the Browns Canyon National Monument is a stunning wilderness area noted for its hiking, fishing, and rafting opportunities. If you're a river fanatic (and we are pretty sure you are) you'll note this as another opportunity to catch sight of the ubiquitous Arkansas River, which cuts a scenic path throughout the canyon.
Florissant Fossil Beds National Monument
The Florissant Fossil Beds National Monument area is a geological formation consisting primarily of shale. If that sounds more like an index entry from your fifth grade Life Sciences textbook than it does something you make a weekend trip to see, just wait because it gets better.
The area is known for being a fossil hotspot, producing well-preserved plant and fauna specimens that researchers have been studying for years. Do note that this is a "leave only footprints, take only pictures," situation. The area is highly monitored and protected after years of tourist activity reduced the petrified forest to a mere fraction of what it once was. Still, it's an exciting opportunity to witness a rarely-seen aspect of natural history.
Aspen
Aspen is a well-known ski and mountain resort town surrounded by four prominent mountains that have delighted skiers for generations. The town is known as being a luxury getaway but does have financially accessible staying accommodations for those who want to have a nice weekend that doesn't require them to liquidate their IRA. In addition to skiing, there are also spas and fine dining giving you loads of different entertainment options to choose from.
Camp Hale Continental Divide National Monument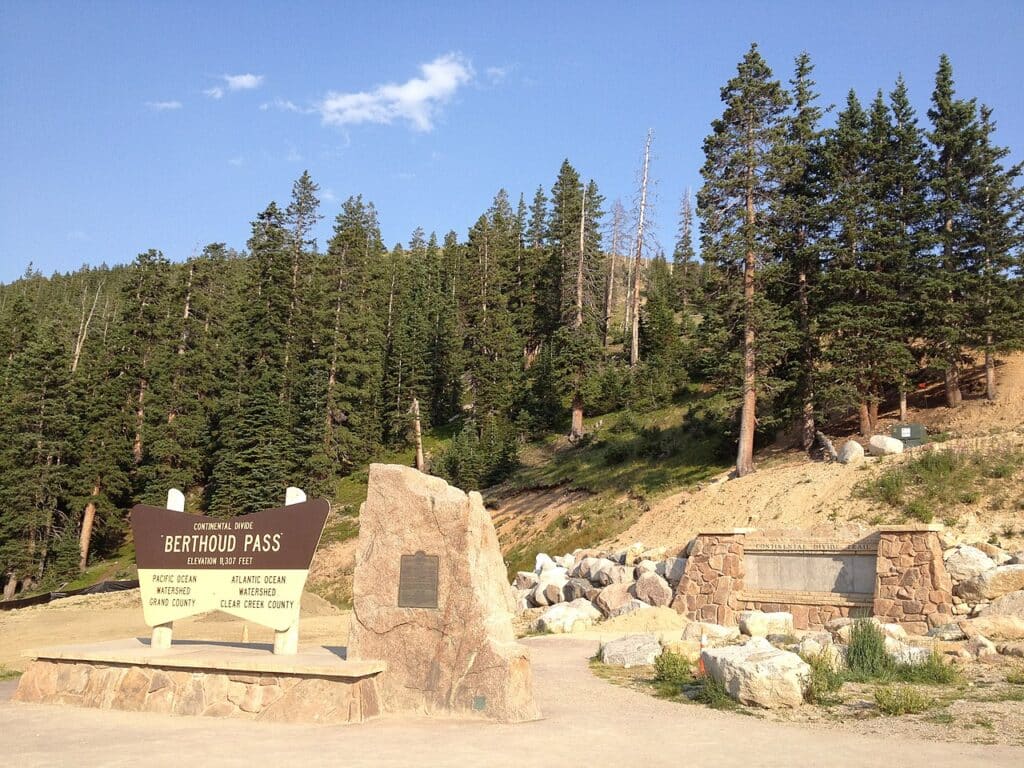 Camp Hale National Monument is a former army training base and known for the famous 10th Mountain Division, which happened to be the Army's first and only mountain infantry division. The Army utilized the base's unique geographical features to train its "mountain division," on everything from mountain climbing to artic skiing.
The camp was decommissioned in the 40s but was declared a national monument in 2022, protecting the half a million acres surrounding the former base. It is now used as a recreation area for ATVs, snowmobiling, skiing and hunting.
Scenic Drives From Denver
If you've taken anything from this article so far it should be that Colorado is basically made of scenic views. More than 30% of the state is wilderness, and mountains rise up cutting the world in half with their enormous peaks and ridges.
It's a great place to go for a long drive. Below, we take a look at a few routes that will allow you to take in particularly beautiful views.
Mount Evans Scenic Byway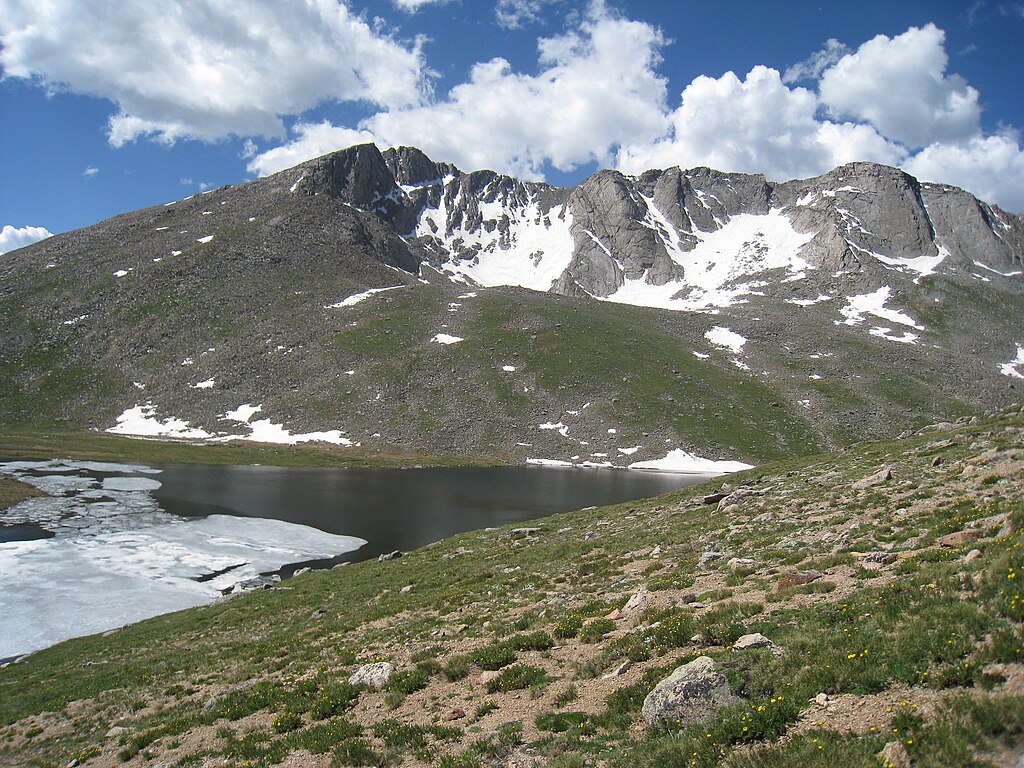 The Mount Evans Scenic Byway carves an enormous 49-mile route throughout a heavily forested stretch of Colorado. The mount peaks at Mount Evans, where it earns the record for being the highest roaded stretch in North America. Drivers routinely stop at the Mount Golitha Nature Park, Summit Lake, and other natural gems along the way. It's easy to devote an entire day to this drive.
Guanella Pass Scenic Byway
The Guanella Pass Scenic Byway is a 22-mile stretch of road that carves a path through the Rocky Mountains providing drivers with scenic views of the South Platte and Clear Creek watersheds. The area is also dotted with lots of streams and meadows ensuring that you will have something pretty to look at for every second of the hour-long drive.
Peak to Peak Scenic Byway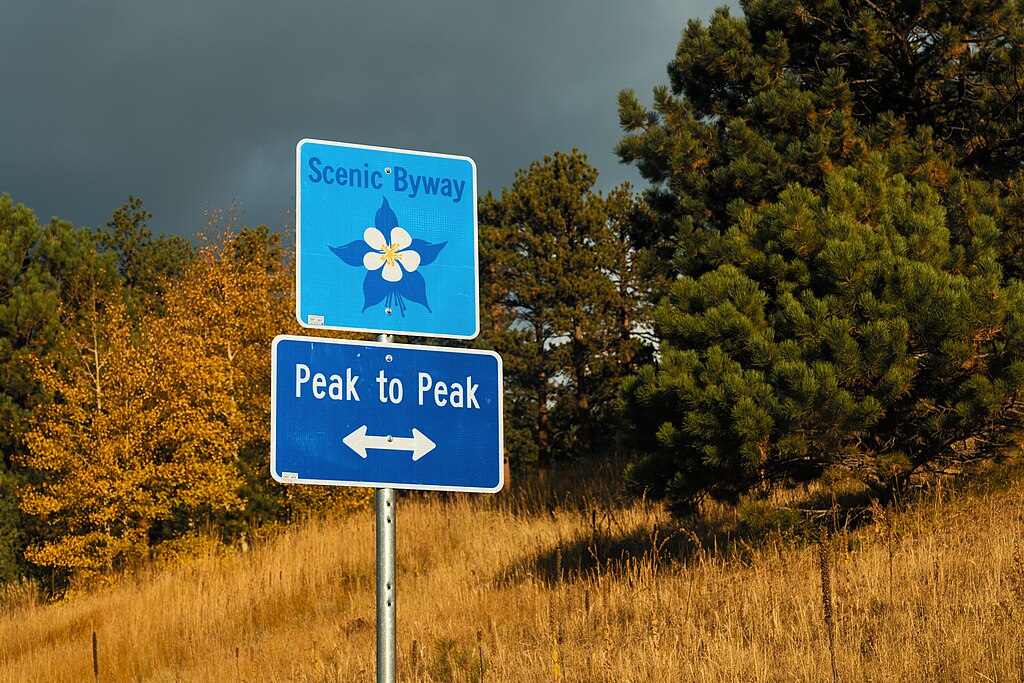 The Peak to Peak Scenic Byway, constructed in 1918 was designed to connect Trail Ridge Road to National Beaver Meadow National Scenic Byway through Estes Park. The path goes through the Front Range and the Rocky Mountains, providing you with beautiful views at virtually every turn.
And because the road weaves in and out of parks it is an excellent place to stop for picnics or maybe even breakaway for a quick hike should the mood strike you.
Arkansas River Scenic Byway
Our old friend, the Arkansas River! The route for this road is 56 miles and takes most people about an hour to drive. The path stays close to the river as it cuts its path through the rocky Bighorn Sheep Canyon. Keep an eye out for the bighorn sheep that give this canyon its name. They can be seen in abundance along the way.
Hanging Lake Scenic Byway
Hanging Lake is one of the most popular hiking destinations in Colorado. So popular, in fact, that permits and reservations are now required to access the park. If you want to do more than watch Hanging Lake by way of your car window, you may need to plan a little bit ahead of time to gain access to this gorgeous park.
Still, it's worth the effort!
Lariat Loop Scenic Byway
Lariat Loop Scenic Byway is a 40-mile stretch of road that carves a sweeping path through Lookout Park, and the Front Range Foothills, with detours in Golden Colorado (mentioned earlier) along with many other attractive Colorado towns.
The road connects with Mount Evans Scenic Byway, giving you the option to extend your drive should you feel the urge.
Denver Sightseeing
Denver is a cultural hotspot so it shouldn't be surprising at all that there are loads of things you can do right in town. So many, in fact, that it would take many weekends to cover even the attractions featured on this list. Up for the challenge of giving it a shot?
Read on for a list of exciting things to do in Denver.
International Church of Cannabis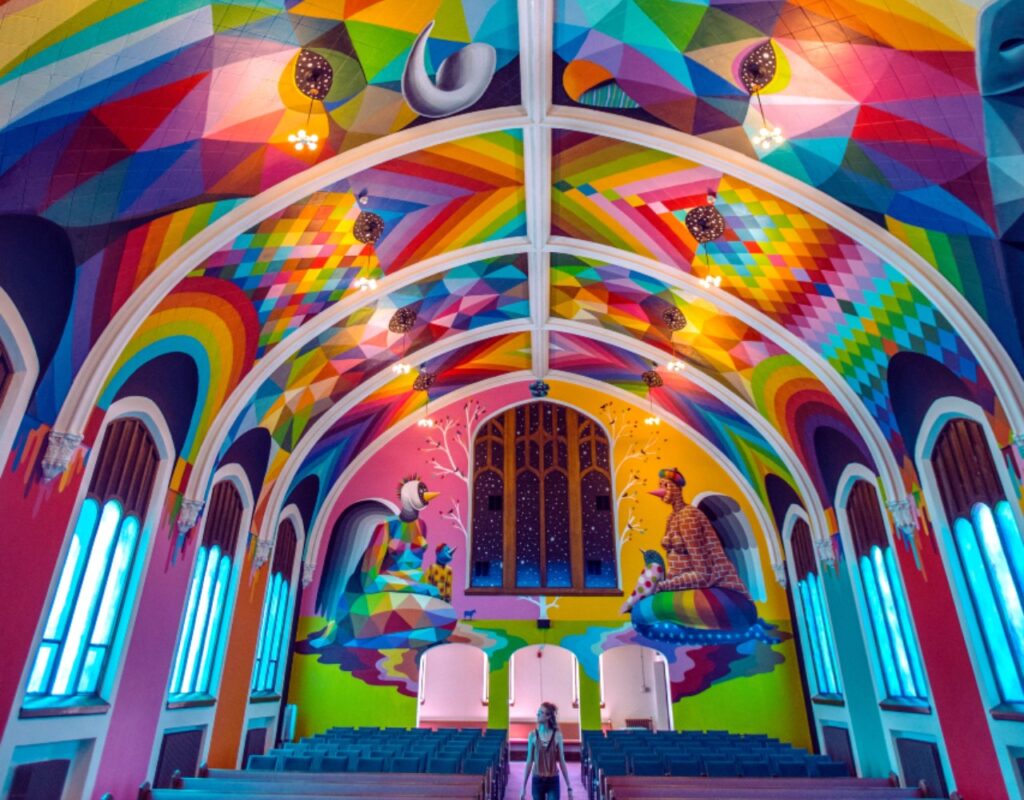 The International Church of Cannabis is a place where people use cannabis to connect with their spiritual side. It is located in a decommissioned church where regular sermons are still held, now with a focus on social justice issues, as well as the spiritual properties of the cannabis plant.
The location is known for its unique murals, making it a good destination for people who would like to take in the local art scene.
Colorado State Capitol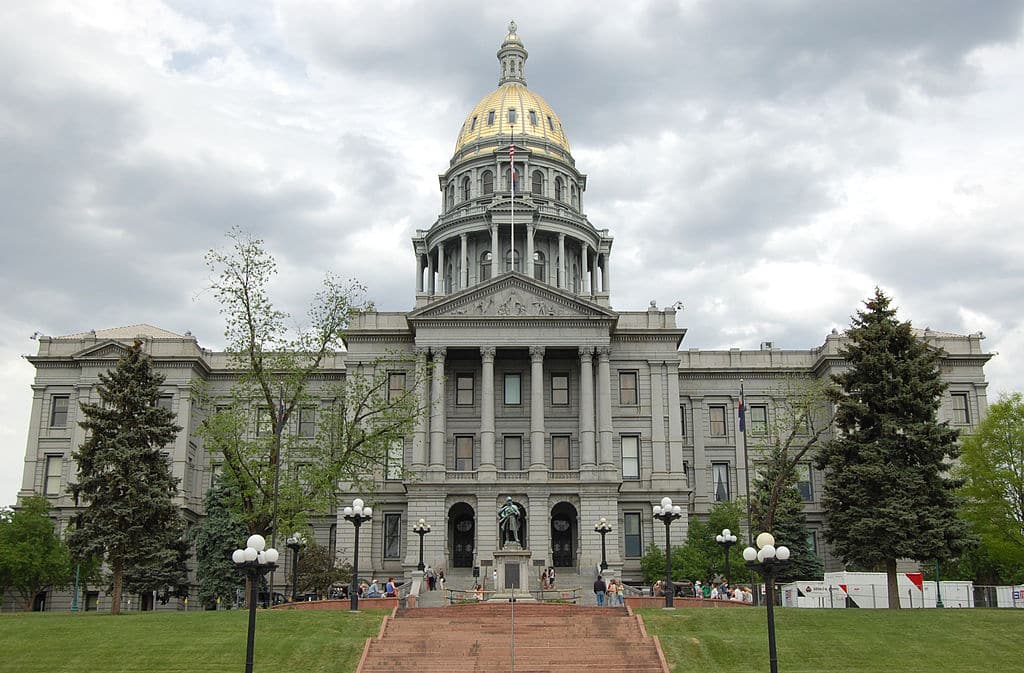 In addition to being a cultural hotspot, Denver is also the location of the state capitol. A fun fact to keep in the back of your head for the next trivia night you happen upon, but also an opportunity for sightseeing.
The capitol building offers regular tours, giving you the opportunity to learn a little bit about state history and politics.
Union Station
One hundred years ago the Denver Union Station was a buzzing hub of travel. Now that rail is no longer a primary aspect of modern transportation Union Station is more subdued than it was in its heyday.
There are still rail lines that use the station, but most people go to take in the stunning architecture, shop, and dine. It's a great place to spend a little time exploring and enjoying a piece of living history.
Molly Brown House Museum
Molly Brown was a well-known Denver-based philanthropist and survivor of the Titanic. She owned a large mansion in Denver that was routinely rented out as she traveled the world. For several years the home served as the Governor's Mansion but eventually fell into disuse and was nearly demolished in the 70s. The Denver Historical Society managed to raise the funds to restore the home, and it can now be visited for tours.
Denver Botanic Gardens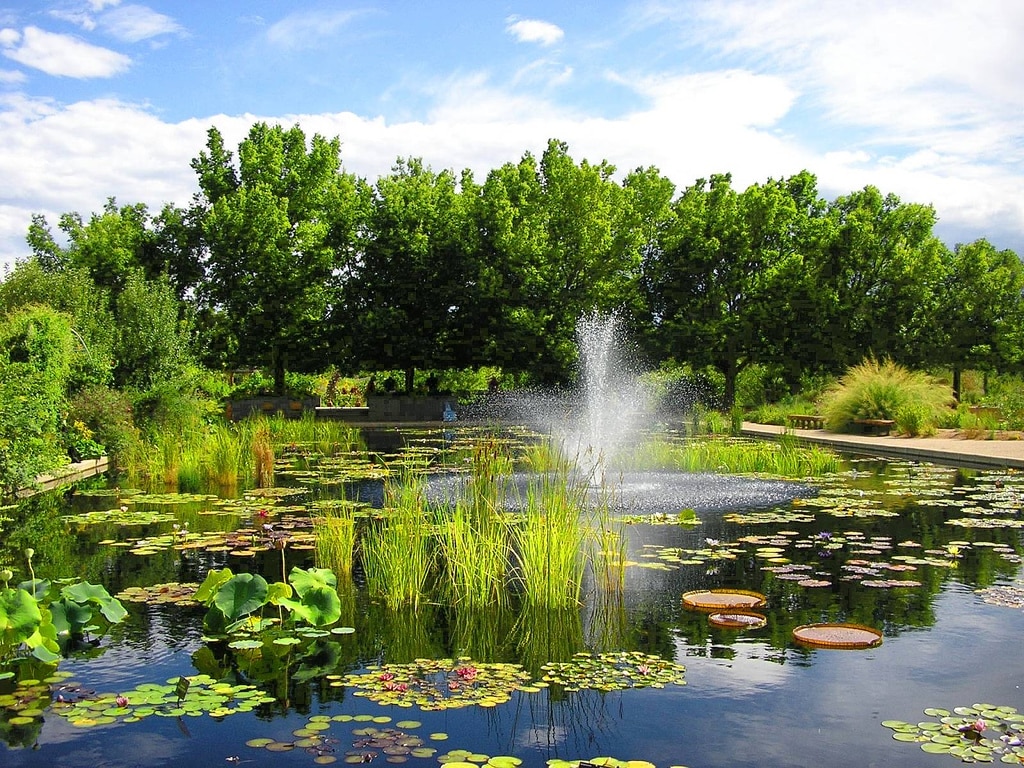 Ahh, the Denver Botanical Gardens. So many of the locations on our list feature wilderness in raw and untamed state. If you would like to experience plants that have been cultivated and massaged into beauty, this is the place to do it.
Go for a leisurely stroll among the plants, or check out some of their programs to further enrich your experience.
Denver Museum of Nature & Science
If you've ever found yourself walking around Denver thinking, "Man, I'd really like to see a dinosaur today," the Denver Museum of Nature and Science is the place for you. The museum has dinosaur bones, a huge T-Rex, a movie theatre, classrooms, and many other natural artifacts that will tantalize and intrigue the mind. You can buy tickets at the door or online in advance. They are $17.95 for youth (3-18) and $22.95 for adults. Plan to spend at least anywhere from 2 to 4 hours to see all the exhibits.
Denver Art Museum
Nature's beauty lives in abundance in Colorado but perhaps you want to experience a more human-made form of wonder and excitement. Look no further than the Denver Art Museum. Featuring art from local contributors and some of the most distinguished names in art history, there is something in this museum for everyone.
The collection is expansive so don't be surprised if you wind up spending the entire day there.
Denver Zoo
The Denver Zoo is another place to witness nature in a more restrained capacity—this time in the form of exotic animals. It's a particularly good spot to take the kids, but of course, anyone can enjoy the opportunity to spend time with animals from other continents, learn their stories, or simply just witness their beauty.
Larimer Square
Larimer Square is a downtown area filled with stores and restaurants. It's known for its lively energy and exciting gathers that contribute greatly to Denver's cultural flavor. It's a walkable area which means you shouldn't have any trouble accessing all of the rad dining spots and shops once you get there. If you're interested in going on a shopping spree or just trying something new this is a good place for you.
Wings Over the Rockies Air & Space Museum
Located on the Lowry Airbase, the Wings Over the Rockies Air and Space Museum is now a great place to learn about aeronautical history and just see some vehicles up close and personal.
There are dozens of exhibits to choose from, making it easy to spend an entire day taking in the sites.
Clyfford Still Museum
Clyfford Still was a noted abstract artist who lived in the Denver area. The museum holds an enormous collection of his work and also provides visitors with an interactive experience. If you want tours, classes, or even meditation events, there is almost always something going on to enrich your visit.
City Park
The City Park is a large preserved green space in the Denver area. It is noted for its picnic and playground opportunities but it is also centrally located. Near the zoo, it's a great place to eat a blanketed lunch after a long day of taking in animals, or simply experience a nice natural retreat from the fast-paced city environment.
Washington Park
Washington Park is another green space that serves as a good spot to picnic or just enjoy a tranquil walk. The area features flower gardens, hiking trails, a boathouse that allows canoeing or kayaking, and multiple sports parks that host baseball games, tennis, and so on.
It's also located within walking distance of a busy commercial district, allowing easy access to some shopping or good dining.
Denver Skyline Park
Skyline Park isn't quite as green as our last two entries. The space is located in downtown Denver and is frequently used as a bustling gathering space. Routinely used for family-friendly events, there is often something fun and social going on—particularly during the warmer summer months.
It's particularly worth checking out if you want some low-key, often free entertainment while you are in Denver.
Denver Millennium Bridge
If you're a bridge enthusiast, this is definitely worth checking out. Noted for being one of the first cable suspension bridges of its kind, the Denver Millenium Bridge is 200 feet long and rises above the Northern skyline, and is used exclusively by pedestrians. Not only is it a unique engineering feat, but it's also just a practical feature of the Denver landscape that you might find yourself using a time or two during your stay.
Things to Do in the Denver Colorado Mountains
The Denver Colorado Mountains is a beautiful and pristine outdoor area noted for incredible views and lush hiking trails that can easily provide you with many days of enriching activity. With so much to explore, a truly comprehensive list of the explorable Colorado Mountain features would be an article in its own right.
Below we provide you with a rough-cuts list of activities you can pursue while in the area.
Hiking Trails
Colorado is full of amazing hiking opportunities so it should be no surprise that you will encounter some great ones in the Denver Colorado Mountains area. Trading Post Trail and the Garden of the Gods are both frequently noted as great hiking spots, but there are many options to choose from.
There are six 14ers that are only around a 2 hour drive from Denver:
Mount Evans
Mount Bierstadt
Grays Peak
Torreys Peak
Pikes Peak
Longs Peak
14ers derive their name from the fact of their height: a peak elevation of 14,000 feet. Though not for the faint of heart, they are a great opportunity for mountain enthusiasts to explore and climb.
Mountain Biking
There are many mountain bike trails in Denver and the surrounding mountain ranges. All with different mileage. The steep peaks and winding paths make it a difficult route for beginners, but there are options that cater to bikers of every skill level.
Rock Climbing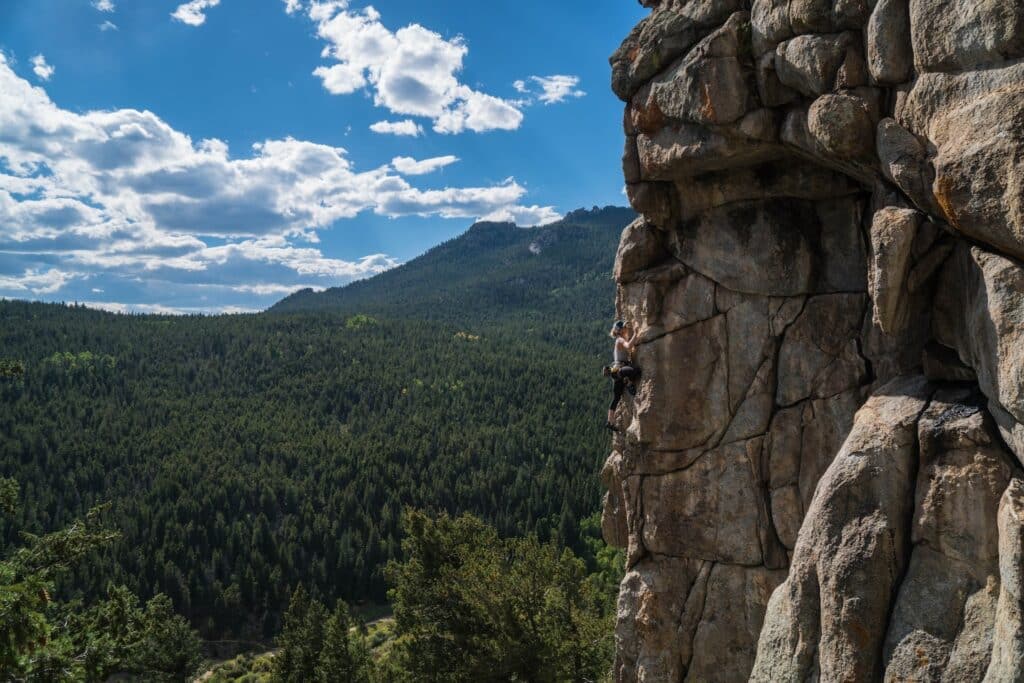 There are no shortage of climbable areas near Denver. In Colorado alone, there are over 33,750 total climbs according to the Mountain Project and around 12,722 in the immediate Denver area. Lookout Mountain and North Table Mountain are both noted as great bouldering, sport and traditional routes. There are options for individuals at all skill levels. With no shortage of choices, it shouldn't be too hard to find something that you are comfortable with.
Wildlife Viewing
There is an abundance of wildlife in the Denver area. The region is noted for its bighorn sheep but there are also coyotes, prairie dogs, elk, and hundreds of other species to observe. What's visible will depend largely on what time of year you go. For guidance, consider speaking with locals. They will have the best insights on where to go to have a cool animal encounter.
Off-roading
Off-roading and 4x4ing is a popular recreation activity near Denver. The Switzerland Trail is often noted as a favorite for Denver off-roaders. The winding path takes you to the site of abandoned mines and curves alongside rivers and streams making it gorgeous and adventurous.
However, there are many other trails to choose from, making it a good opportunity to explore in your off-roading vehicle.
Camping
The amount of camping opportunities in the Denver area is limitless. Cherry Creek State Park is an often-mentioned favorite but in a state that is made of parks and mountains, you shouldn't have any trouble finding an ideal spot. Not to mention, Rocky Mountain National Park is so close to Denver that you'll be able to find a camping spot that suits your needs.
Of course, it's always best when you can mix pleasures. Find a spot that is located near other activities you are interested in pursuing.
Fishing
Colorado is well known for its fishing, specifically fly-fishing. The often-referenced Arkansas River is particularly famous for its rich fishing locations. Local wisdom is once again recommended for selecting the right spot to cast your line. Just remember to be friendly. It can take a bit of coaxing for even the friendliest locals to spill the beans on their best fishing hole.
Canoeing & Rafting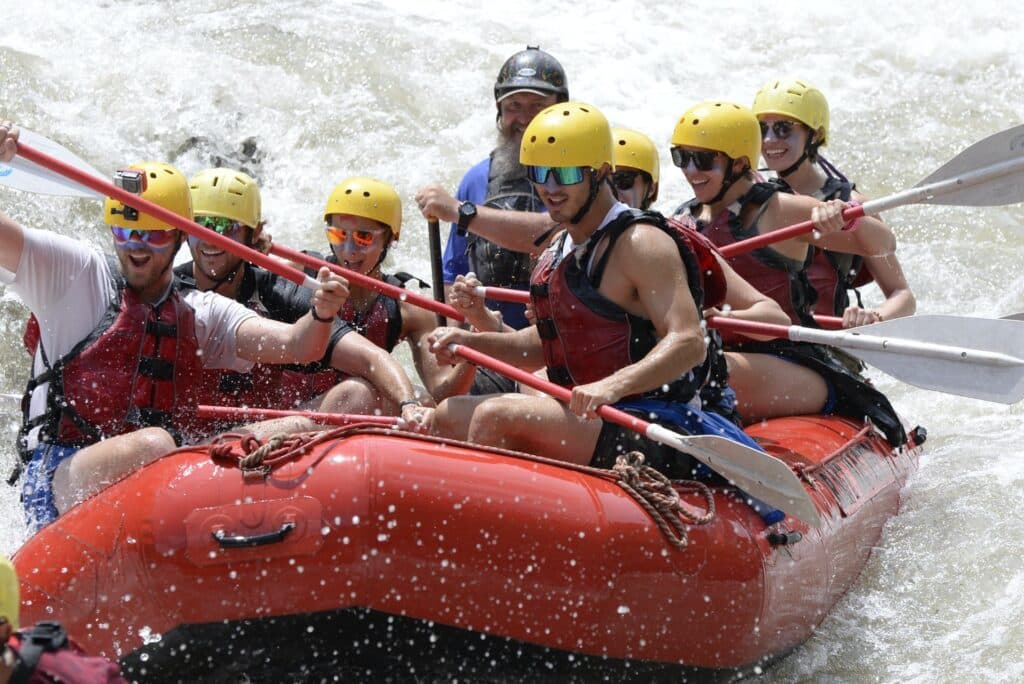 We've mentioned numerous canoeing and rafting opportunities on this list. The—hey, you knew it was coming—Arkansas River offers numerous spots for just such activities. Of course, there are other spots as well, providing you with tons of variety in what sort of spot you pick.
Winter Activities
When many people think about snow sports, Colorado is where their minds go. It's well known for its snowboarding, skiing, snowmobiling, etc. Aspen is a particularly famous spot for skiing and other snow-related activities but you shouldn't have any trouble finding other spots if you so choose.
Towns to Visit Near Denver Colorado
Denver is located near loads of towns that provide tons of charm, and unique features that you can't necessarily access in the city. From notable restaurants and shopping districts, to easy access to natural beauty, there is something neat to see in every one of these towns.
We have already mentioned some of them in passing throughout other sections of this article, but now we take a closer look at towns to visit near Denver Colorado.
Boulder
Boulder is noted for its shopping district (see, the Pearl Street Mall) and its cool restaurants (like the Dushanbe Teahouse). Because this is Colorado we are talking about, it also has easy access to loads of beautiful natural locations making it easy to break away for a day of exploring and adventure.
Grand Lake
Grand Lake describes itself as "a charming mountain town," and that seems to fit the bill just fine. Near loads of hiking trails, it also features a lakeside beach, a decent spread of shops and restaurants, and even a community theatre that routinely puts on shows.
It's a more financially accessible Colorado tourism destination than, say, Aspen, but it does also provide fine dining and nice hotel accommodations, making it good for people on all budgets.
Golden
Golden Colorado is a charming little town that provides plenty of activities for tourists. There are the Mines Museums of Earth Science, the Buffalo Bill Museum and Grave, the Colorado Railroad Museum, and loads of shopping and eating to be done.
The area also has natural access to lots of hiking trails and scenic overlooks, making it yet another great Colorado spot to engage with nature in comfort.
Manitou Springs
Manitou Springs is a small town with a population of just 5000. Don't let the size fool you. There's plenty to do in this charming little getaway. In addition to featuring a decent restaurant and shopping scene, it is also home to the Manitou Cliff dwellings (a series of homes built into the cliffs) a notable cave, and the Manitou Incline—a steep hiking trail that climbs 2000 feet up. It's easier on the way down than it is on the way up.
Georgetown
If you thought Manitou Springs was small, wait till you see Georgetown. With a population of just 1200, it's easy to sleep on this tiny town but do so at your own regret. Home to several museums and art galleries, the town also has easy access to the Loveland Ski Resort, making it a great way to indulge in a luxurious experience while still enjoying the charms of small-town America.
Idaho Springs
Idaho Springs has the historical distinction of being the first place in Colorado where gold was discovered. That discovery led to Colorado being a leading source of ore in America. Today, the town remains a charming place to pay a visit, explore a mining museum, and take in some trails.
It's a great spot for hiking with a river that is used for rafting and fishing.
Castle Rock
Castle Rock is a larger town, featuring a population of 75,000 people. The area is particularly known for its microbreweries, giving you an excellent chance to sample some local ales during your stay.
And because this is Colorado we are talking about, it also has easy access to lots of great hiking and nature exploration spots.
Vail
Vail Colorado is a gorgeous ski town with plenty to do all year round. In Spring, head on over to the Betty Ford Alpine Gardens and watch the flowers bloom. Year-round, you can visit the Snow Sports Hall of Fame, while during the lengthy ski season, you can hit the slopes.
There are a range of great bars and restaurants, a good shopping scene, and plenty of nearby trails to hike.
Breckenridge
Breckenridge is a small town located at the base of the Rocky Mountains. Known for its skiing, the town also has easy access to lots of biking and hiking trails. And there is plenty to do when you want to take a break from the rustic. Be sure to carve out some time to explore the charming downtown area, where there are lots of shops and restaurants to choose from.
Colorado Springs
Located in the eastern part of the Rocky Mountains, Colorado Springs is a sizeable municipality with a population of half a million people. Naturally, in an area of that size, there is plenty to do. The city is best known for its proximity to the Garden of the Gods, a scenic hiking and climbing location mentioned several times throughout this article. However, there are also loads of restaurants, shopping, and even spa options to choose from.
Fort Collins
Fort Collins is full of unique activities, including one of the last remaining drive-ins in the United States. Take a trip over to the Pizza Museum, visit one of several microbreweries, and enjoy the vibrant restaurant and shopping scene that is so prominent in the area.
It's very close to Rocky National Park, giving you plenty of chances to hike, fish, and do other rustic outdoor activities.
Evergreen
Named for its nearby evergreen forestry, this town features comfortable small-town living set in a vibrant natural landscape. If you are in the mood for some material comforts, head on over to the historic downtown area where you will find dozens of shops and restaurants to choose from.
Or, if you'd like to commune with nature, there is plenty of hiking in the area. One of the most popular aareas is Three Sisters Trail Park.
Morrison
Located near the Red Rocks Park and Amphitheater, Morrison gives you the best of both worlds. In the Red Rocks area, there is plenty of hiking and natural sightseeing to be done. The Amphitheater, of course, provides the possibility for a very unique concert experience.
In town, there is a museum of natural history, along with many shops and restaurants.
Idledale
Ideldale is a small, unincorporated town just outside of Denver. While it doesn't have as many amenities as some of the other towns we have discussed so far it can provide you with an affordable lodging alternative that still gives you access to the city and all its comforts.
It's located near Red Rocks Park, giving you plenty of fun stuff to do outside as well.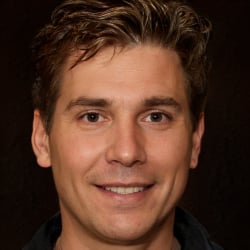 Latest posts by Austa Anderson
(see all)