If you're swinging through Colorado via Colorado Cannabis Tours, then you're old enough to get toasty on some fine liquor, too.
Colorado Springs, the second-largest city in the Centennial State, has more than its fair share of bars, clubs, and other 21+ venues for getting your drank on. Each of these businesses is specific to Colorado Springs, so you'll only get to experience them if you visit here!
Shuga's
702 S Cascade Ave.
(719) 328-1412
Shuga's is an intimate hang-out located just on the periphery of Colorado Springs' downtown area. Known for some amazing mix drinks, including their famous mojitos, they also offer exotic-yet-affordable food-fare such as Spicy Brazilian Shrimp Soup (one of their most popular items); mac-n-cheese served with jalapenos, bacon, and creamy gouda cheese; and the aptly-named Mr. Sunny Funny Happy Goodtime breakfast sandwich, packed with fried eggs, applewood smoked bacon, and goat cheese.
Jose Muldoon's
222 N. Tejon St.
(719) 636-2311
Tequila, tequila, tequila! Located smack-dab in the middle of downtown, Jose Muldoon's has a homey yet hoppin atmosphere, perfect for sharing shots of everyone's favorite cactus-based spirit. They've also got some excellent Mexican and Tex-Mex dishes to accompany the munchies you may get from your boozing – or bonging.
Phantom Canyon
2 E Pikes Peak Ave.
(719) 635-2800
Phantom Canyon Brewing hosts three stories with dining, a huge bar, and multiple pool tables to shark – er, show off – your billiard skills. There's more beer here than you can count on your fingers and toes, and many flavors come exclusively from Phantom Canyon's in-house brewing operation.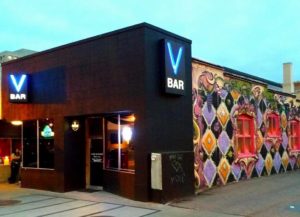 V-Bar
https://www.facebook.com/vbarcs/
19 E Kiowa St.
(719) 635-9599
Looking to sip fancy cocktails in a dimly lit, New-York-styled martini bar? V-Bar is the spot, and they'll customize your martinis exactly the way you want it, including but not limited to filling a dirty martini half-way with rich olive juice. The Springs' longest-standing bar hosts an All You Can Drink Night for $10 every Thursday, too.
Blue Star
1645 S Tejon St
(719) 632-1086
For a more upscale, cultured affair, swing by the Blue Star. Hidden away just off S. Tejon Street, Blue Star features valet parking, which is to be expected at a four-star establishment. Inside, you'll find an assortment of wines, high-end beers, and microbrews to accompany a variety of gourmet dishes including duck, lamb, and some of the primest cuts of steak available in the area. But they're best known for their tapas, in the event you wanted to dine on something a bit lighter.
Smiling Toad Brewery
1757 S 8th St #100
(719) 418-2936
Self-described as Colorado Springs' "homey" brewery, this no-frills, laid-back bar is perfect for visitors seeking a chill place to sip some hand-crafted beers. If you've been here before, swing by again, because their featured "Brews" switch out every week. That's because they brew in smaller batches than most breweries, ensuring quality and exclusivity each time.