It seems that each year another state goes green, which means that we aren't talking about simple road trips anymore: we are now discussing 420 vacations and weed tours galore.
If you're a marijuana enthusiast in America, a trip to Colorado now comes with new and exciting opportunities that you are definitely going to want to take advantage of.
Today we are taking a look at how you can make your next trip, a one you hopefully won't forget. We say hopefully because you know, you might experience some extremely strong bud along the way.
Read on for a journey into Colorado weed vacations.
Take a Cannabis Tours in Denver
The cannabis tour is exactly as wonderful as it sounds. Essentially, Colorado marijuana tours give you everything that you could possibly want out of your kush tourism experience.
This isn't the nerdy tourist bus attraction that you see going through major cities all across America in which poorly dressed travelers with big cameras and lots of sunscreen pile into smelly old busses, take pictures they will never look at, and learn facts they never really wanted to know.
Nope. Colorado weed tours are nothing like that. They are about as lit as they sound as you visit
local dispensaries, learn how weed gets grown, see glassblowing sessions, and get blazed out of your mind.
We will now take a short look at a few exciting Denver marijuana tours for you to consider.
Colorado Cannabis Tours
Join the Colorado Cannabis Tours team on your next Colorado 420 vacation. The first cannabis tour company based in Colorado. So for you're looking for a classic, yet unique kush tour experience, this is going to be the top option to think about.
They offer a variety of different tour options so that you can select the one that suits your interests and your budget. Options range from their classic tour which takes 4.5 hours and gives you a comprehensive view of the marijuana culture and community in Denver. You can experience everything from beer / 420 tours, oil extraction classes and even behind-the-scenes MMJ tours.
Check out this video created by HBO Vice's Hamilton Morris who meets up with Colorado Cannabis Tours, the Colorados first legal cannabis marijuana tourism company! Hamilton goes on the ride of his life experiencing the 420-friendly Canna-bus.
If you are looking for lots of options, and a wide range of 420-friendly experiences, Colorado Cannabis tours may just be your friend.
Learn about Terpenes and how to make Hash and Concentrates
New Concentrates and Oil Extract Class & Colorado Best Dabs Tour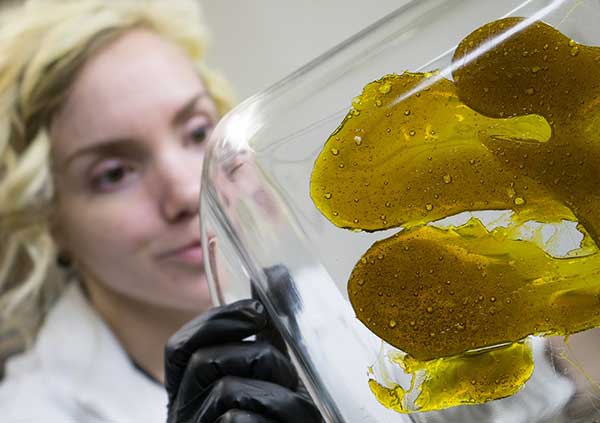 This hands-on tour takes your through Colorado Best Dabs, oil production and extraction facility, so you can see for yourself where and how the pros work their craft.
Learn from expert concentrate artist Murph Murri as she takes you through the production of terpene profiles, extraction techniques and types of BHO technology. If you want to learn the ins and outs of concentrates and oil extraction from a bonafide expert, this is going to be your chance.
Have a Colorado Marijuana Class Experience
When out exploring during your Colorado weed vacations, take the time to relax with the wide range of cannabis activities and 420 friendly classes available from painting to learning about different cannabis plants. Denver and the surrounding area have several options that are out there for you to enjoy. 
Puff, Pass, and Paint
Expand your mind while blowing everyone else's. Marijuana may not make you a great painter, but by the end of the class, you probably won't care so much.
Glassblowing & Pipemaking 101
Wouldn't it be ridiculously cool to have the opportunity to make your own pipe?
Glassblowing isn't easy. Taught by Chris Schutz, this three-day intensive course gives you the opportunity to see if you have the skills to become your own glass designer pipe maker. To learn more about this class click here.
The teacher's instruction will include demos followed by hands-on student practice with teacher assistance.
Introduction to Cannabis Cooking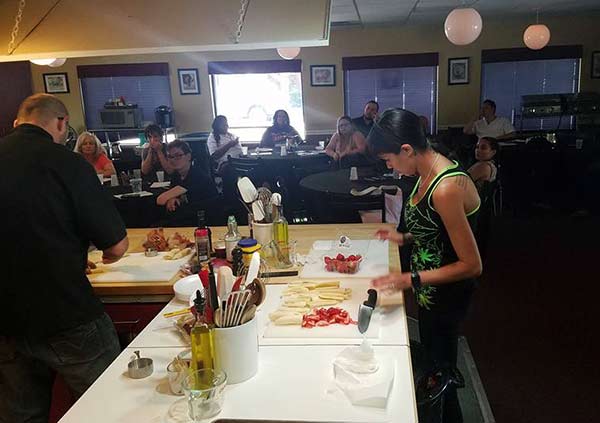 Oh my goodness. What's better than eating? Eating delicious, home cooked meals and sweet munchies with all the benefits marijuana provides you.
You'll be joining Chef Jarod Farina in the kitchen where his cannabis cooking class teaches you the ins and outs of basic and even more advanced cannabis-infused cooking.
This class is definitely going to give your recipes a big boost. The best part? Marijuana is the sort of ingredient that can cover the mistakes of even a really, really bad cook.

Puff, Pass & Pottery Class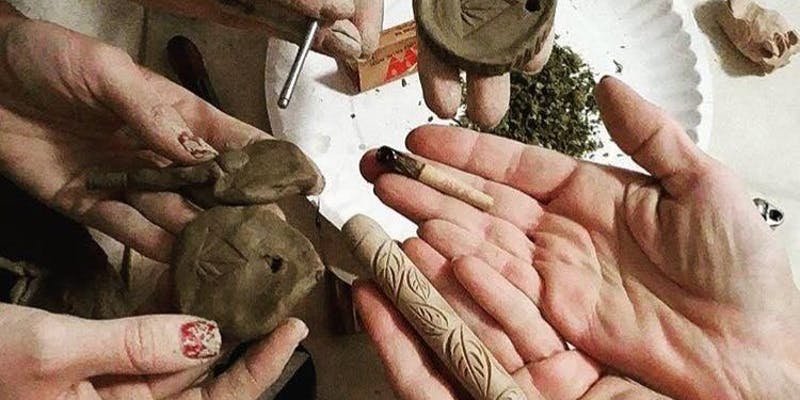 POTtery. Ha. You get it. This class similar to the painting one that we looked at earlier. Join established Denver potter Jessa Decker-Smith and make art while the THC makes you very, very happy.
Check out a Colorado Marijuana Festival or Private Events 
If you want to sample all of the weed in Colorado that you can, then perhaps classes and tours just won't quite be enough for you.
In that instance, you may want to take the chance to review some special private events. Here are a few special opportunities that you and your friends and family can enjoy during your trip.
Mile High 420 Festival
Maybe to you, every day is 420, but when the true April 20th does roll around, you are probably going to want to consider taking a look at the Mile High 420 Festival.
This Denver 420 festival offers attendees the opportunity to commune over everyone's favorite plant on a day that is designed to celebrate marijuana culture.
The festival includes music, vendors, and, of course, lots and lots of marijuana. You'll love it.
Cannabis Infused Dinner Party
We talked a little bit ago about taking cannabis cooking class. And who doesn't want to learn how to make marijuana-infused foods, right?
But also, this is your vacation that we are talking about here. Why do the cooking when you can get nice and comfy and let someone else do it for you?
If your munchies have taken you to the place that you want a gourmet meal that is full of cannabis, you don't have to go to all of the trouble of cooking it for yourself.
Instead, think about letting someone else take care of the cooking as you book a cannabis-infused private dinner party.
The cannabis-infused dinner party is available every Friday night and gives patrons the opportunity to choose from a fully loaded gourmet menu that features chicken, steak, fish, or even vegetarian options.
At $149 per person, it is certainly a pretty pricey option, especially if you have a group with you, but if you have a special occasion that you would like to celebrate, it's a three-course, cannabis dinner to satisfy your munchies.
Visit a Cannabis Coffee Shop
Last but not least, we have the cannabis coffee shops. Cannabis coffee shops have been wildly popular for many years in Amsterdam (the pot capital of the planet) and they are now finally making their way over here.
So far, licensing and law for the cannabis coffee shop concept is a little bit stalled as Colorado works out what is and isn't legal.
Because of this, there are not as many legal bud friendly coffee shops as one would probably imagine, but there is one option out there for people who like their java not with cream, but with THC.
The Coffee Joint
Like we said, The Coffee Joint is currently Colorado's first and only licensed bud and coffee lounge. Although this is technically a coffee shop, java does seem to play second string to cannabis (how could it not, right?).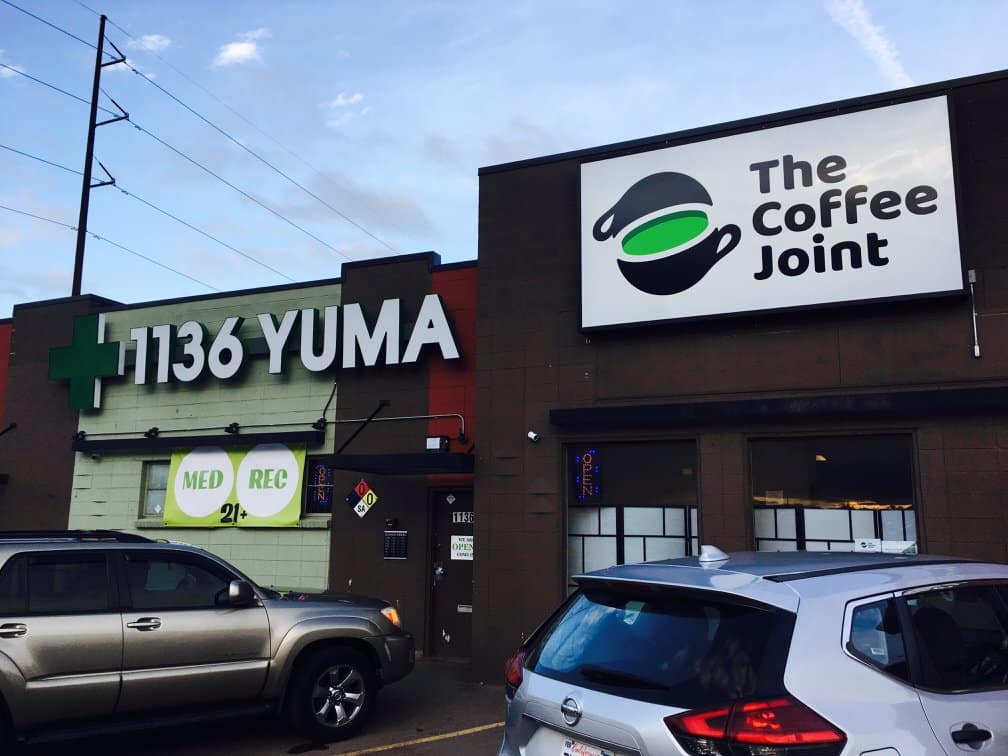 In fact, they currently run a limited time offer of free unlimited tea or coffee to patrons that are getting their smoke on (though this is, apparently subject to change once they get their cappuccino machine up and running.
The focus of The Coffee Joint is twofold: recreation and education. If all you are looking for is a nice place to spend a couple of hours relaxing with your favorite beverage (coffee) and your favorite thing in the world (cannabis) you can definitely get that here.
They also offer a variety of educational opportunities pertaining to all things cannabis. Whether you want to learn about marijuana law, growing opportunities, or really just about anything at all pertaining to weed, you are going to find the opportunity to expand your mind (while simultaneously opening it) at The Coffee Joint.
Being the first and only of its kind in the states, the Coffee Joint offers a unique opportunity that you should really try to take advantage of on your trip if you can.