Puff, Pass and Paint in Washington DC!
Puff, Pass and Paint founder Heidi Keyes taught her inaugural class in Washington DC last week. It was held August 19.  It was a special class in many ways, the best being that her aunt Gail was able to attend.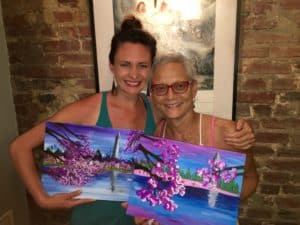 This unique DC event was held at the Purple Mansion in Columbia Heights.  This is the home of the Marijuana Policy Project's Rob Kampia. The advocacy and hard work that the MPP has done to advance the changes in cannabis laws around the country is outstanding, so the opportunity to hold a ground-breaking cannabis event in that space was one that couldn't be passed up.
So what is Puff, Pass and Paint?
Shortly after Amendment 64 came into effect in Colorado in January of 2014, Heidi Keyes began teaching her class after taking a suggestion from  a friend who saw the potential in combining two things Heidi was passionate about. She has crafted what many consider the best experience out there in which to get high and be creative with paint. Heidi has continued perfecting the style and format of the class since she started her marijuana-friendly painting class nearly 3 years ago.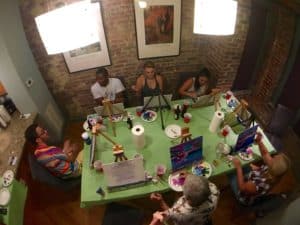 Classes are held in a private residence. Paints, canvas and brushes are provided, and paintings are taught step by step. The classes are "BYOC" and "BYOB", where guests are welcome to share amongst themselves if they choose.
Why Washington DC?
Washington D.C. passed Initiative 71, a law that made it legal for adults to possess up to 2 ounces of cannabis, and to consume it in a private residence. This made the private party format of Puff, Pass and Paint DC a natural fit for the district. After holding the first class of P3 there it was evident that the community is eager for the chance to socialize and meet others in the context of smoking marijuana. Heidi and I were stopped by a local resident when we were wearing our Puff, Pass and Paint tank tops. Curiosity and enthusiasm for cannabis events seems to be exploding in D.C.. Currently classes scheduled for August and September are sold out! But we will be adding more soon. Check PuffPassandPaint.com for details about upcoming classes.