Cannabis has been known to strengthen bonds, relieve tension, enhance mood, stimulate laughter, inspire adventure, elevate creativity and heighten sensations. It's no wonder this passionate plant has found a meaningful place in romantic relationships. This Valentine's Day, celebrate the symbiotic relationship between cannabis and love by presenting your amor with one of these eight thoughtful gifts.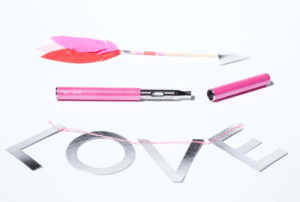 W!NK
Sleek, consistent, discreet and pretty in pink, W!NK CO2 extracted cannabis and terpene infused oils and vape pens deliver delightful flavors and aromas with every inhale. Choose from Appledream, Berryelevate, Chocominted, Grapephoria, Pineapplift, Tangibright and Bubblewish. Since social responsibility is important to the women behind W!NK, they pledge to donate proceeds from every purchase to breast cancer research.
KushKards
KushKards creates sassy, smart and heady cards for that special stoner in your life. Each greeting card comes with a built in joint holder, a match striker and a witty sentiment. Choose "You toke my boat," "I'm so stoned over you," "Valen High" or pick another gem from the imaginative KushKards' collection. Your lover will cherish this one-of-a-kind love note.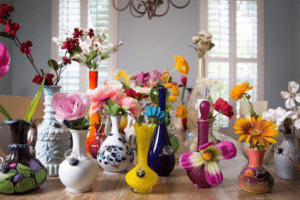 My Bud Vase
Perhaps you've seen cannabis queen Miley Cyrus puffing down on one of these inventive vases. Inspired by a Venetian antique vase and a budding cannabis industry, Doreen Sullivan set out to create an artistic and utilitarian statement with My Bud Vase. Sullivan turns vintage glass vases into water pipes — discreet, unique smoking accessories for sophisticated smokers. Whimsical and romantic, your special someone will love this flirty gift.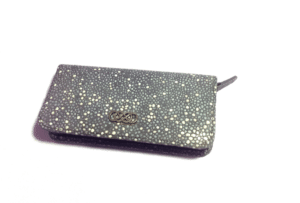 Erbanna Stingray K.I.T.
Your valentine's is sure to swoon when opening up this precious package. Wallet sized for convenience, the Erbanna Stingray K.I.T is eye-catching, super soft and comes with a grinder card, bat, dab stick plus silicon containers for flower, wax or shatter. Looking for something less shimmery? Peep the Maxwell B. Living K.I.T. in black leather. Looking for something a little roomier? Check out Erbanna's diverse and chic collection. Worried about odors? Don't. Erbanna bags are made with odor loc technology.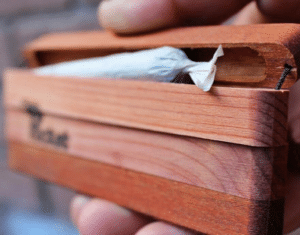 Pot Pocket
Give the gift of organization this Valentine's Day with Pot Pocket, a clever hand-crafted wooden case that allows you to carry up to three rolled joints at a time. It's unique design allows the user to extinguish a lit joint by placing it into one of the three self closing compartments, avoiding waste, mess and odor. Simply bend to open, insert your pre-rolled cannabis blunt or jay, and release to close.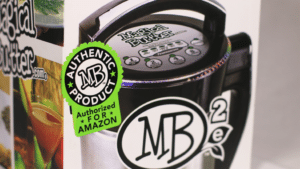 Magical Butter
Romance is in the air. 'Tis the season to bake up a delicious batch of ganja brownies, whip up a savory sauce or make a sensual massage topical for the one you adore with the Magical Butter machine. But wait, that's not all. Make cannabis-infused butters, oils, skin care products, tinctures, soups and salad dressings, too. Plus, you'll receive a helpful recipe book with step-by-step instructions to get you started. Nothing says "Be Mine" (or "Be High") like this easy-to-use and easy-to-clean botanical extractor that fits conveniently on your countertop.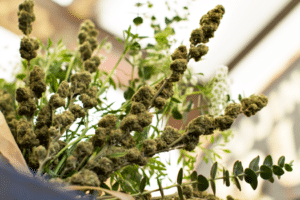 Lowell Herb Co. Cannabis Floral Bouquet
Dazzle your date with a bundled ounce of organic cannabis mixed with sprigs of beautiful wildflowers and aromatic eucalyptus from Lowell Herb Co. If you're in L.A. and your significant other has a California MMJ card, you can set up an appointment for a Valentine's Day delivery. Feel good knowing you're supporting a farm that always uses organic fertilizer, never uses synthetic pesticides, pays their farmers a proper living wage and uses natural materials from seed to sale.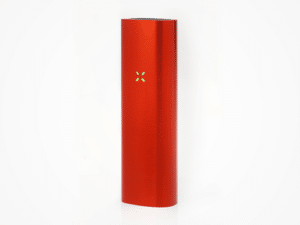 PAX 2
With the stylish PAX 2 portable vaporizer in flare (red), you'll be showing your valentine how much you care. Microdosing cannabis with a vaporizer is healthier, allowing you more control over the effects without inhaling tar and smoke. You'll have fun dialing in the right vibe for a fun and frisky night together with this sleek high tech device. Plus, it's battery efficient, low-profile and comes with a 10 year warranty.
Happy Valentine's Day!