If you're visiting Colorado, you should consider making Colorado Springs one of your stops. A relatively conservative town with a strong military and religious presence, the city is also home to a number of exquisite ethnic and domestic dining spots, hidden away in the quiet corners of "The Springs."
Most of these restaurants are exclusive to Colorado Springs; others may have chains, but only in Colorado. These establishments were selected on two criteria: they serve up creative, delicious dishes and they provide ample environmental ambiance for a totally gratifying experience.
Golden Flame Hot Wings
5865 Stetson Hills Blvd #120
(719) 570-9464
Unlike most restaurants, finger licking is encouraged at Golden Flame, as every wing gets slathered in a variety of sauces blended for every palette, from lightly mild to a blaze of sweet, sweaty regret. Like most wing spots, Golden Flame has a Wing Eating Challenge, except theirs is based on the diner's speed over stomach capacity: if you can eat 14 wings in 90 seconds, you'll be immortalized on their "Wall of Flame."
Silver Pond
6523 N Academy Blvd
(719) 594-9343
Silver Pond goes above and beyond cliché Chinese culinary artistry and offers up truly unique dishes you won't find anywhere else. Ever had shrimp in a strawberry sauce? How about egg rolls stuffed with jalapenos? They're also one of the few Chinese joints in town with a wide selection of vegetarian and gluten-free options.
Uchenna
2501 W Colorado Ave #105
(719) 634-5070
Colorado Springs' only Ethiopian restaurant comes with an added bonus: you can eat your entire meal with your hands, as it's traditionally done back in Ethiopia. Dishes are designed to be mixed and rolled into fresh flat breads, so every meal can potentially be customized to each diner's tastes. If it's your first time at an Ethiopian spot, try the lamb – you won't be disappointed.
Fujiyama
22 S. Tejon St.
(719) 630-1167
Fujiyama's sushi in downtown Colorado Springs fuses the best parts of Japanese tradition with modern-day twists. The originator of the Heart Attack Roll (an oft-imitated-but-never-duplicated crab roll stuffed inside a giant fried jalapeno), Fujiyama specializes in hand crafting new sushi combos to surprise even the most seasoned taste buds. If you prefer your meat cooked, there's hibachi available, too, with pattering chefs and slick knife tricks.
Shinsadong
3845 E Pikes Peak Ave
(719) 638-2695
Korean food is all the craze these days, with choices between the insanely popular BBQ kalbi ribs all the way to incredibly healthy raw vegetable dishes. Shinsadong, located near the Citadel Mall, serves up some of the most authentic Korean grub available in Colorado – and at affordable prices, to boot. For true koreaboos, you may even catch your favorite K-drama playing in the background on the restaurant's big-screen TV.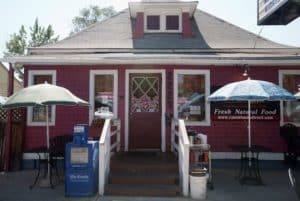 Mountain Shadows Restaurant
2223 Colorado Ave.
(719) 633-2122
If you've got a hankering from home-style breakfast, drop in to Mountain Shadows. And while you're there, grab one of their massive cinnamon rolls, so massive you need a knife, a fork, and a shovel to eat it properly. Old Colorado City's favorite old-fashioned eatery is hosted in an antique home with plenty of plastic '70s and '80s decor, just to add a smidgen more to that retro feel.