Throughout recent years I have been taking a look more holistic options to address symptoms caused by my sickle cell anemia. I traded opiates for cannabis to relieve my pain…the side effects were ridiculous. I swapped meditation for the craziness I often felt in the midst of a sickle cell crisis. And said goodbye high impact exercise (which often left me unsafely winded), for less strenuous activities such as swimming. One of the symptoms of my condition is a relatively low oxygen level, so safe exercise has always been a challenge.
But I think I have found the perfect element to my recipe for better health recently at a new CBD-infused yoga class.
As much as I loathe to rise before 10 a.m. on a Saturday, I couldn't wait to attend this first class held by Marijuasana in the District.
Launched in Denver, this class has become a hit and now us District residents can benefit from the growing cannabis yoga movement!
The class began with a social period and chat amongst those attending. While I felt a little intimidated at first (it's been a while since I have stretched ANY part of my body), my fears were quickly alleviated by a few sips of CBD-infused tea. It also helped that our instructor Stacey allowed us to go at our own pace and even made sure we notified her of any body concerns we have, taking into account my hernia. Kudos to Stacey!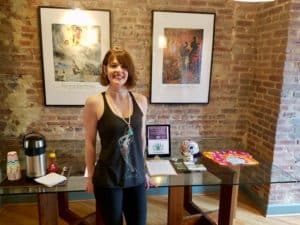 She walked us through several movements taking us from the mat to the floor, reminding us to inhale and exhale at certain points. Yoga blocks were provided to help ease a few moves that might caught discomfort for some. During a 5-minute break, we sipped on more CBD-infused tea and passed a few joints in the air. This probably explains why I wasn't as sore as expected. Cannabis heals!
The yoga and cannabis movement has been growing, and more people are seeking ways to incorporate the healing aspects of cannabis into their regular exercise routines. I know a few stoners who prefer taking a few puffs of their favorite sativa before a serious workout, once again proving cannabis doesn't make one lazy! In fact, I find myself even more motivated after a good session. Especially when it's with what I call my "blogging buddy" Blue Dream.
While I expected to be completely sore the next day, I found myself surprisingly energetic and ready for more! I truly believe this new step toward overall health has changed my life for the better. I highly recommend this class for newbies and the more experienced. For more information on future classes in the District of Columbia, visit Marijuasana.
Try it. You will become a believer too!
Colorado Cannabis Tours books Marijuasana classes and private groups. Call 303-420-8687 for more information.